What to do in Riga?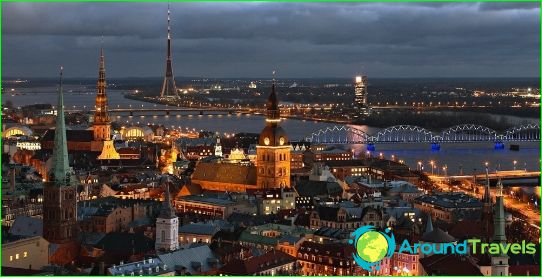 Riga is a city where medieval buildings and Art Nouveau houses, large shopping centers and cozy cafes where you can taste homemade pastries.
What to do in Riga?

See the panorama of the Old Town by going up to the observation deck of the St. Peter's Church;
Visit the Dome Cathedral and listen to organ music (concerts are regularly held here);
Take a bike ride around Riga, which can be rented at automatic Baltic Bike rental points;
Visit the Ethnographic Museum (here you will learn about the way of life of Latvians in the 16-19 centuries, visit exhibitions of applied art, buy original souvenirs made of amber, leather, wood).
What to do in Riga?
The main attractions are located in the Old Riga area. Walking here, you can visit the miniature city of the Konventa Seth (there is a hotel, antique shops, a porcelain museum, a cafe), see St. Peter's Church, the Dome Cathedral, Riga Castle, House of the Blackheads, House with Cats, Zignu and Meistaru streets movie "17 moments of Spring").
Couples with children can go to the water park "Livu Akvaparks". Even the smallest visitors will have plenty of fun in "Mom's", "Daddy's" and the pool "Hummingbird". In the center of the water park, in the Country of Kid, every vacationer can besiege the fortress and cool the enemy's ardor with cool water.
You can watch the performances of professional acrobats, trainers, clowns, tamers and spellcasters in the Riga circus.
It is better to come to Riga for shopping in winter - at this time of the year, large shopping malls open the sales season. So, you can buy goods profitably in a large shopping center. "ORIGO" and department store "Stockman", where goods belonging to different categories are sold (household appliances, jewelry, clothing, footwear, perfumery).
For nightlife, go to a nightclub "Saxophone" (rock music lovers will feel comfortable here), "Big point" (international music plays in this club), "Casablanca" (here you can enjoy not only good music, but also delicious national dishes). Well, fans of bright parties and dances will be able to have a good time in the club "Essential" - this is possible thanks to the huge dance floor, modern music and a variety of exotic cocktails. You should definitely go to the nightclub "Faraons", the hall of which is decorated in the ancient Egyptian style (the hall is decorated with pyramids, sarcophagi and statues of priests). In addition, the nightclub has bars, dance floors and VIP lounges..
If you decide to spend your vacation in Riga, you will have a great rest and get new vivid impressions.
Photos where you can go in Riga