Christmas in Latvia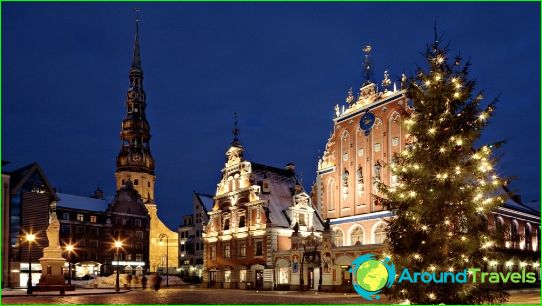 It is Latvia that is waging an eternal dispute with Germany over which of them is the birthplace of the Christmas tradition of decorating a Christmas tree. For real travelers, such nuances are not too important, because any trip to Europe promises the best experience. So the option to celebrate Christmas in Latvia may turn out to be the very adventure that will change, if not the whole life, then the mood for the better - for sure.
Piparkukas - for fun science!
The ability to decorate their cities is a whole science and an important ritual among the inhabitants of the country of amber. Sparkling trees and shop windows of department stores burning with thousands of lights, candles on window sills and gold wreaths, garlands on trees and white-winged angels - cities and villages of Latvia are changing and prettier.
The main aroma of Christmas in Latvia is the smell of magical Piparkukas cookies, which are prepared by the local housewives. Pepper baked goods are a symbol of the upcoming holiday. Figures and houses that decorate tables of Latvians are baked from this dough. Christmas tree festivals and New Year markets are enveloped by the aroma of hot mulled wine, which is brewed right on the squares and streets.
Dome Square - the heart and soul of old Riga - does not remain aloof from the general festive excitement. The fair, which opens here at Christmas in Latvia, offers guests lovely and cute souvenirs, without which a holiday is unthinkable. For relatives and friends on the square in front of the Cathedral, friendly sellers offer decorations with amber and knitted hats, wood crafts and handmade Christmas tree decorations.
No bad weather for fun
On Christmas Day, on Dome Square, they arrange logging - a ritual that pays tribute to the pagan past. The tree needs to be dragged and burned so that the thoughts are purified, and all the bad and negative things are a thing of the past. This custom coincides calendar with the days of the winter solstice. Modern Riga offers its guests an ancient ritual performed by urban folklore ensembles.
At Christmas in Latvia, you can go to the Baltic Sea and see how the holiday is celebrated in Jurmala. The city of amber and music festivals welcomes tourists with great hospitality and offers its festive entertainment events.
In any case, Latvia has something to look at during the winter holidays. The main thing is not to be afraid of bad weather and take a warm hat and scarf with you to shelter from the winds, which are so fond of hosting in the Christmas Baltics..
Pictures of Christmas in Latvia