Riga in 3 days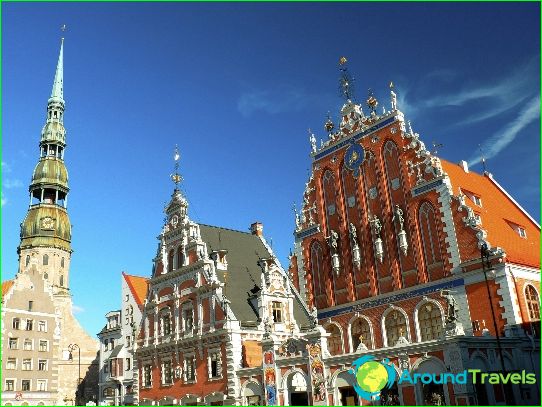 A weekend or vacation in the capital of Latvia is a fabulous mix of a wide variety of experiences: from walks along medieval streets to unrestrained fun in trendy nightclubs. Especially when you consider that the journey from Moscow takes less than two hours, and air tickets are quite affordable. In short, Riga in 3 days is a very interesting scenario for a trip of any format.
Let's count together
In the capital of Latvia, you can not only wander and admire the sights, but also do interesting mathematics. For example, there are as many as 6,718 trumpets at the organ of the Dome Cathedral, and each of them is directly involved in the creation of musical masterpieces. You can listen to the organ, and at the same time admire the splendor and grandeur of the most famous Riga architectural monument in the square, which remembers the steps of Ferenc Liszt himself. The brilliant musician wrote a special composition on the occasion of the consecration of the organ in the cathedral.
Counting the cockerels decorating the spiers of local cathedrals can be no less fascinating. In Riga, in 3 days, it is quite possible to collect the entire bird collection by looking at the roofs of the cathedrals of St. Peter, St. John and St. Jacob. The last on the list, by the way, was built by the monks of the Livonian Order in the 13th century..
Balm for the heart
A great reason to go to the capital of Latvia - Christmas holidays. If you have a three-day trip to Riga at this time, you can start the excursion from the Dome Square, where the New Year's fair is noisy. The best way to look for souvenirs for family and colleagues is hard to come up with. Latvian craftswomen offer customers bright handmade knitted hats and sweaters with deer, and a strong half of the tourist fraternity is respectably asking prices for beer mugs and the famous Riga balsam.
The brand "Riga Balsam" was first patented by the pharmacist Kunce in the 18th century, who invented an elixir based on dozens of herbs. Approved by the Empress, the miracle balm has become the most popular souvenir from Latvia.
In the footsteps of movie heroes
In Riga in 3 days you can feel like a hero of famous films. The capital of Latvia has always been a favorite filming location for Soviet directors, and many events took place on its streets in both Seventeen Moments of Spring and Robin Hood's Arrows. Here the prisoner of If Castle loved and hated, the chilling crime in "Purely English Murder" was unraveled, and Sherlock Holmes and Dr. Watson strolled through the Riga-"London" alleys on their way to Baker Street.
Photos