Liechtenstein airports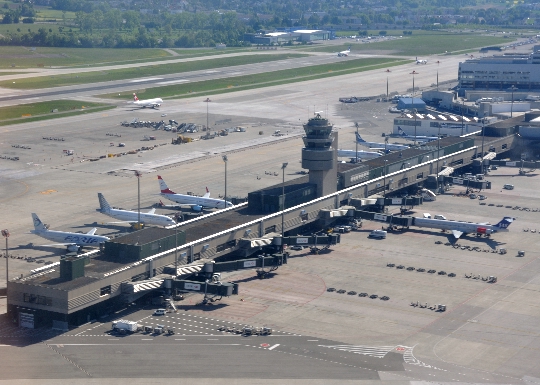 The royal principality of Liechtenstein is so small in size that it does not even have its own airport. It is customary to get to Liechtenstein through the Swiss Zurich or the air harbors of Basel and Bern. Aeroflot makes regular flights to Zurich airport every day. Swiss International Air Lines fly there from Moscow. Travel time is about 3.5 hours. With transfers from the capital of Russia to Liechtenstein, you can get on the wings of Air Berlin or Lufthansa, landing in Berlin or Frankfurt, respectively, and then, transferring in Zurich by bus to Vyduts - the capital of the principality.
Liechtenstein International Airport
Serving tourists and traveling citizens of Liechtenstein, Zurich Airport is the largest in Switzerland. The city where the airport is located is located on the shores of the lake of the same name and is a famous tourist and cultural center of Europe..
The list of airlines, whose services can be used for a trip to Liechtenstein, are many well-known carriers in Europe and the world:
American Airlines, Delta Air Lines, United Airlines and US Airways fly from various US cities.
Austrian Airlines, Air Europa, Air France, Air Berlin, AirBaltic, Alitalia
Air Malta, KLM, British Airways, Brussels Airlines and Iberia Airlines connect the airport and Liechtenstein to most European countries.
Emirates, Qatar Airlines, Etihad fly to Qatar and the Emirates, and El Al to Israel.
Infrastructure and services
At Zurich Airport, passengers can use a variety of services to delightfully wait for their chosen flight. There are many duty-free shops here, selling not only traditional spirits and perfumes, but also authentic Swiss souvenirs, cheeses and chocolates. At currency exchange offices, you can exchange Swiss francs for dollars or euros, and at car rental offices in the arrivals area, you can take a car and go from the airport to Liechtenstein by car.
Terminal A serves passengers arriving from Schengen countries and domestic flights from Switzerland. Terminal B accepts flights both from the European Union and from other countries of the world.
All details about the schedule and services can be found on the website - www.zurich-airport.com.
Transfer to the principality
Kloten Airport and Zurich are 13 km away, which can be reached by commuter train. The station is located right at the airport, and you can get by train to other cities in Switzerland. Following to Liechtenstein, you will have to buy a ticket to the bordering Buksa or Zargans, where you will change to buses to the capital of the principality. Regional train from Bux to Austrian Feldkirch also travels through Liechtenstein.
Photos