Vaduz - the capital of Liechtenstein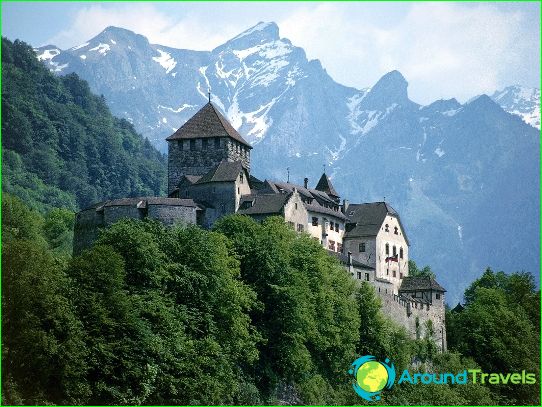 The capital of Liechtenstein, the city of Vacul, attracts tourists with its rich history and a huge number of attractions. Vaduz, located on the upper Rhine, is not a very densely populated city. About five thousand people live here.
Vaduz castle
The construction of the castle took place in the early Middle Ages. Later, it was restored and completed several times. The castle belonged to the Werdenberg-Sargans family. The most interesting is the chapel of St. Anne, where the altar in the Gothic style has been preserved in almost its original state..
Unfortunately, you won't be able to admire the beauty of the castle on your own. Since 1938, Vaduz has been serving as the official residence of the Princes of Liechtenstein. For visits, the castle is open only on August 15, when the country celebrates its National Day..
Städle street
It is she who should certainly be included in the route of his walking tours in the capital. There is a huge number of interesting places from the point of view of history, as well as cafes where you can have a cup of coffee and take a break. Be sure to pay attention to the City Assembly building with magnificent sculptures that adorn the bas-relief. The Post Office Museum, which presents a collection of stamps used in the principality, will also seem interesting..
Not far from it stands the English House, which served as both an office space and sales rooms. But today a collection of paintings belonging to the princely family is kept here. You will learn about local history by visiting the National Museum. Clothes, furniture, weapons, jewelry of the ancient Celts are kept here. The building is also interesting because it once hosted the great Goethe.
Cathedral
On the site where the church is located, an ancient temple was located in the Middle Ages. That is why the residents decided to build a temple here. After the completion of the construction, the temple was dedicated to Florin of Remus, a saint who was especially revered in this area..
The neo-Gothic style, in which the cathedral was built, fits perfectly into the surrounding landscape. He currently serves as the official residence of the Archbishop of the Roman Catholic Church..
Town hall
It is here that city council meetings take place. The opening of the Town Hall took place in November 1933. The construction took almost two years. The architect was F. Rekle, whose design won the 1932 competition. And although the building belongs to the last century, it is rather difficult to guess about it. Visually, this is a typical structure dating back to the Middle Ages. The conference room itself is also unusually decorated. From the walls of the hall, the Grand Dukes of Liechtenstein, as well as the mayors of the capital, look at you.
Photos