Airport to Kuala Lumpur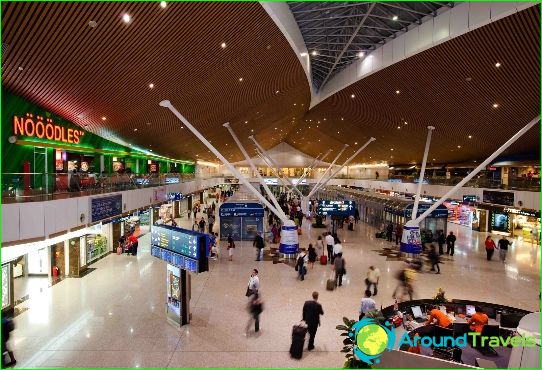 Kuala Lumpur International Airport is one of the largest airports in Southeast Asia and one of the most technically advanced airports in the world. It is located about 60 km south of the city of the same name. More than 50 airlines from all over the world cooperate with the airport.
History
The main airport of Kuala Lumpur is relatively young, it was built in 1998. The construction cost was $ 2.5 billion. The new airport replaced the then existing Sultan Abdul Aziz Shah International Airport, which currently only accepts charter flights and turboprop aircraft..
Terminals
The airport in Kuala Lumpur has 2 terminals - the main terminal and the budget terminal.
The main terminal has 3 buildings - the main and auxiliary buildings, as well as the Contact pier, which is connected to the main building by a special passage.
From the main terminal building to the auxiliary one can be reached by train, which connects them with an elevated railway. The Aerotrain train is capable of carrying approximately 3,000 passengers per hour. Travel time from one building to another is about 2 minutes.
The low-cost terminal was built later by Air Asia. The main purpose of this terminal is to unload the main terminal from the constantly growing passenger traffic. The building of the budget terminal is located opposite the main terminal, the distance between them is only 800 meters, the terminals are connected by a bypass road, 20 km long. Therefore, to get from one terminal to another, you need to take a bus or taxi.
It should be noted that the budget terminal is only an auxiliary one, since the main terminal cannot cope with the existing passenger traffic. However, there are plans to build a new terminal that will serve 45 million passengers a year..
How to get to the city
The capital of Malaysia, Kuala Lumpur, can be reached in several ways:
Bus - There are three bus companies that leave regularly from the main terminal. The ticket price will be about 10 ringgit. The cheapest and longest way to get to the city.
Taxi is the easiest and fastest way to get to the city in the absence of traffic jams. The tourist has a choice of 2 companies that offer different types of taxi services - from budget to luxury models.
Train - trains depart regularly from the airport and take passengers to the city's central railway station. From the central station, you can easily get to anywhere in the city using public transport.
Photos of Kuala Lumpur airport