Zoo in Kuala Lumpur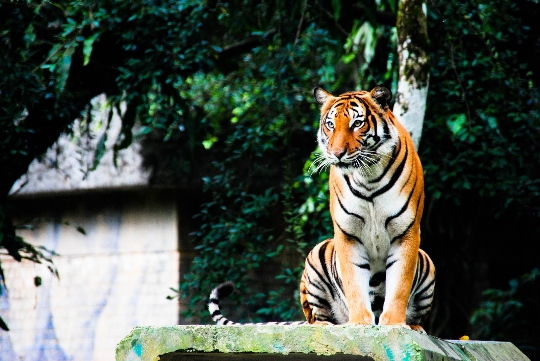 The first visitors saw the Kuala Lumpur Zoo in 1957. It was then that the Negara Park opened in the capital of Malaysia, a year later meeting its millionth visitor and decades later becoming one of the largest and most interesting in Asia. The vast majority of its guests live in spacious enclosures and their living conditions are as close to natural as possible, and therefore observing animals here turns into pleasure and has an important cognitive value.
Zoo Negara
The name of the zoo in Kuala Lumpur is familiar to many animal lovers and biologists of the planet. Negara Park is located five kilometers from the city and thousands of travelers from all over the world become its visitors every day..
Among the main tasks of the park, the organizers call the dissemination of scientific knowledge at the local, regional and world level and the creation of a natural habitat for the preservation of many species of rare and endangered animals..
Pride and achievement
The Kuala Lumpur Zoo contains over 5,100 animals representing nearly 500 species of birds and mammals, insects and reptiles, fish and reptiles.
The special pride of the Negara Park is the giant pandas, which are always crowded with many visitors near the enclosures. In addition, the zoo has several thematic exhibitions representing the fauna of various parts of the world:
The reptile park showcases turtles, crocodiles and many venomous snakes.
Three handsome Malaysian men greet visitors at the elephant pavilion.
Children's world is an opportunity for kids to communicate with dwarf horses, parrots, guinea pigs and rabbits.
The Savannah Pavilion showcases African wildlife, including white rhinos, giraffes and zebras.
The largest insect exhibition in the Asian region offers luxurious tropical butterflies and many colorful orchids as their habitat.
How to get there?
The zoo address is ZOO Negara, Hulu Kelang, 68000 Ampang, Selangor Darul Ehsan, Kuala Lumpur. The easiest way to get here from the city center is by Metrobus Line 16 from Central Market or Rapid KL Line U34 from Putra LRT Station.
Helpful information
The park's opening hours do not change, as does the weather in Malaysia. It is always open from 09.00 to 17.00.
You can find out about the schedule of interesting events on the park's website..
The entrance fee to the Kuala Lumpur Zoo depends on the age of the visitor:
Adult ticket price - 53 RM.
For a child ticket (from 3 to 12 years old) you will have to pay 27 RM.
Visitors over 65 years of age have benefits. Upon presenting a photo ID, they will be able to buy a ticket for RM 16.
Students and teachers visit the park for RM 9 and RM 11, respectively.
Useful contacts
Official site - www.zoonegaramalaysia.my.
Phone +60 34 108 3422.
Photos of the zoo in Kuala Lumpur