Water parks in Kuala Lumpur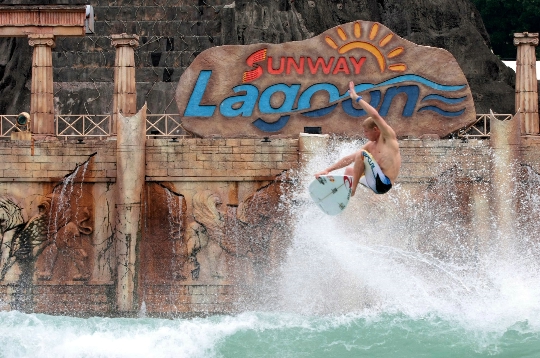 Is the water park one of the main places you want to pay attention to on your vacation in Kuala Lumpur? Then you will be pleasantly surprised that the local water park is part of a complex with hotels, shopping centers and even an ice rink..
Water parks in Kuala Lumpur
Aquapark "Sunway lagoon" pleases visitors:
an artificial beach with real sand (6,000 tons of sand were brought here);
an area with calm attractions and slowly flowing canals;
zone with high-speed and extreme descents ("Waterslides"), as well as a surfing area;
restaurants, the menu of which is famous for a variety of dishes at reasonable prices.
Important: both parts of the water park are connected by a suspended rope bridge that swings over the lake, and on the neighboring shore, guests can see a volcano spewing lava! It is worth noting that the water park has waterfalls, pools, in particular, wave (wave height can reach 3 m) and for young visitors, as well as a point where you can rent equipment for water sports and outdoor activities.
Adults' admission tickets cost RM145, and discounted tickets (sold to seniors and children under 11) - RM115.
You should not limit yourself to visiting only the water park, here you can look into the Horror Park with a house of ghosts and a room of fear; at the Wildlife Park (you will see about 150 animals, some of which can be fed); to the Wild West zone (playing cowboys + riding various attractions).
Water activities in Kuala Lumpur
If you stay at "Fraser Place Kuala Lumpur" or "Hotel Maya Kuala Lumpur", then you will be able to pamper yourself with water procedures every day, since these hotels have swimming pools.
On vacation in Kuala Lumpur, it is worth visiting the Aquaria KLCC (children - 28 ringgit, adults from 12 years old - 38 ringgit) - in this small underwater kingdom you can meet 5,000 tropical fish, as well as 20,000 marine inhabitants, for example, turtles and tiger sharks (can be viewed through a 90-meter glass tunnel). In addition, those who wish will be given the opportunity to feed the fish and even swim with sharks. It should be noted that on the territory of Aquaria KLCC there are zones with small aquariums - there are marine inhabitants that can be touched without taking them out of the water..
If we talk about beach lovers, then they should take a closer look at the beaches of Langkawi - Cenang (well-developed infrastructure + water sports + pretty landscapes) and Tengah (calm and clean sea + ideal conditions for family and children's recreation).
Well, for the sake of diving, it is best to head to Tioman Island - there you will be able to visit underwater caves, meet gorgon corals, napoleon fish, puffer fish, angel fish, triggerfish, stingray stingray and others..
Photos