Traditional Malaysian cuisine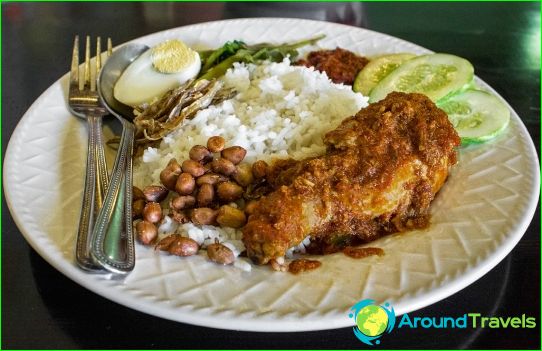 Food in Malaysia is characterized by the fact that in the country you can taste national dishes at affordable prices.
Food in Malaysia
The diet of the Malays consists of vegetables, rice, seafood, meat. Rice is a popular product in Malaysia: it is stewed here with coconut milk, steamed, fried with vegetables and spices, added to desserts, mixing rice with fruits.
In Malaysia, you should try rice cooked in coconut milk, served with fried peanuts, hard-boiled eggs, anchovies and cucumbers ("violent mack"); cabbage rolls wrapped in palm leaves ("ketupat"); chicken with rice; beef stew in a hot curry sauce (rendang); chili shrimp sauce (sambalbelacan); meat kebab with peanut sauce (satay); egg noodles with an egg slice (meerebus); pieces of fruits and vegetables lightly marinated in vinegar with chili and peanuts (achar).
And those with a sweet tooth should enjoy a colorful mixture of jelly, red beans, corn, peanuts, cream, poured with sugar syrup and ice crumbs ("ice swing"), rice puddings, baked bananas (gorengpisang), green pancakes with coconut.
Where to eat in Malaysia? At your service:
cafes and restaurants where you can order dishes of Malay, Chinese, Indian and other cuisines;
street eateries and street stalls (the saleswoman will give you a plastic plate of rice, on top of which you can independently place whatever you want from the huge dishes on the counter);
fast food restaurants (Pizza Hut, KFC, McDonalds).
Drinks in Malaysia
Popular Malaysian drinks - coffee, tea, juices, coconut milk, kopitongkatali (coffee based drink with condensed milk and ginseng root), milo (chocolate drink), beer.
Finding beer and wine in Malaysia is not a problem, but spirits (since they are practically not produced in the country, they are mainly represented here imported alcohol) are not sold everywhere and they are quite expensive.
If you want to save money and buy alcoholic drinks at reasonable prices, then you should visit the Labuan or Langkawi islands (these islands are a duty-free zone).
Food tour to Malaysia
Going on a food tour to Kuala Lumpur (the capital of Malaysia), in local restaurants you will get acquainted with Chinese-Malay cuisine, you will attend a culinary master class led by a famous Malay chef. On this tour, you will be shown how food from the farm goes to the table, and in local restaurants, you will be offered to taste delicious Malay dishes.
Holidays in Malaysia are a great opportunity to sunbathe on luxurious sandy beaches, actively participate in various festivals and carnivals, taste the original Malay cuisine.
Photos of Malaysian national dishes