Male airport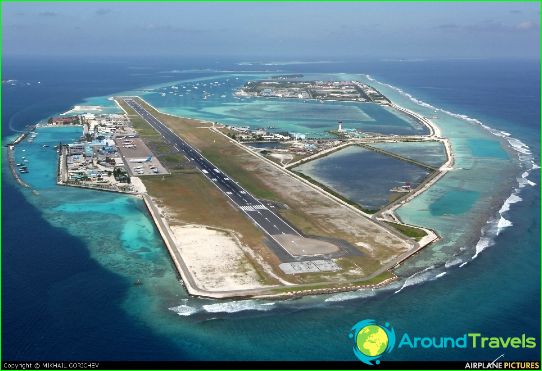 The main airport for tourists traveling to the Maldives is in the city of Male. The airport is located on the small island of Hulule, its runway just stretches across the entire length of the island - from water to water. The airport is located just 2 km from the neighboring island-capital of the Maldives, the city of Male.
History
Male airport began operations in October 1960. Its first runway was made of steel plates and was just over 900 meters long. Four years later, it was decided to replace it with an asphalt.
Interestingly, the removal of the old runway was carried out on a competitive basis - 4 groups of local residents removed it at speed, and the winner received 1,000 rufiyaa.
The official opening of the new runway was in April 1966.
In 1981, the airport received international status and officially became known as Male International Airport.
In the summer of 2011, the airport was given a new name - the airport. Ibrahim Nasir. Ibrahim Nasira was the second President of the Maldives and was the initiator of the construction of this airport.
Services
Male airport has 2 terminals, the first of which is responsible for international flights, and the second for domestic. In the terminals, passengers will be able to receive only the most necessary services, without any frills. Post office, bank branches, ATMs, pharmacy and first-aid post.
In addition, there is a luggage storage room on the territory of the terminal, the cost is $ 3 per day. Of course, you can't do without the Internet.
Also, passengers can visit duty-free shops, cafes and restaurants.
There is a separate superior lounge for business class passengers.
The control
To go through passport control, you must fill out a special card, which is attached to the passport by the immigration service. When leaving the country, you must present it, so you need to carefully consider this.
They are very attentive to checking baggage, so you need to be ready for a full search if you find the following prohibited items: alcohol, drugs, weapons, porn, figures and statues.
Transport
The Maldives is fully aquatic, so the main transport here is water or air (seaplanes).
Every 10 minutes a ferry departs from the airport, which will take a passenger to the neighboring island for $ 1..
Male airport photos