Holidays in the Maldives in October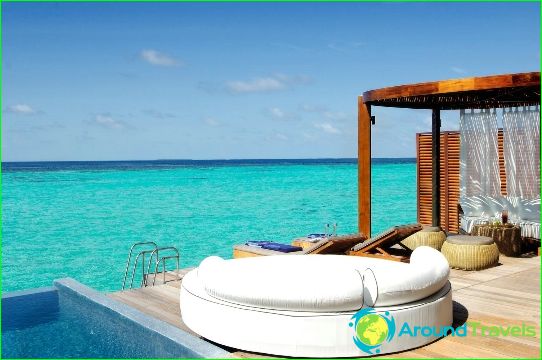 October is one of the best months for a holiday in the Maldives, because of the pleasant weather conditions. Take advantage of a unique chance to forget that real autumn reigns in your homeland!
Weather in Maldives in October

Hulhangu falls in October, which assumes the dominance of the southwestern monsoon, which brings a significant amount of precipitation. Despite this, the weather pleases with the sun and the minimum amount of precipitation. According to the old calendar «Nikaya», In early October, strong winds and downpours should subside, and instead there may be occasional rains that occur at night. Forecast «Nikaya» comes true every year.
Tourists note that the number of rainy days in October decreases several times. It can rain 1 - 2 times in 10 - 12 days. Decreased precipitation results in lower relative humidity levels, allowing weather-sensitive people to enjoy their holiday in the Maldives.
The air temperature + 30… + 31C is not perceived as heat, but gives only pleasant sensations. The breezes also allow you to enjoy the weather. At night you can take a break from high temperatures, because the air is cooled to + 24 ... + 25C.
This weather contributes to the enjoyment of travel..
Holidays and festivals in the Maldives in October
Many Maldives holidays are different «floating» dates, as they depend on the Muslim calendar. In some years, October is the Eid al Adha holiday..
Eid al Adha is a state and religious holiday of sacrifice. The festivities stretch over several days. At this time, representatives of all segments of the population have fun. Every tourist should be prepared for the fact that banks and shops, offices are closed. At the same time, you can enjoy exciting activities. During Eid al Adha, it is customary to hold charity events, prepare feasts at home, and present gifts to each other. On the streets you can see female dancers who try to keep metal pots of water on their heads. Local poets with true talent howl the epics-balands known as raivaru.
Enjoy this extraordinary holiday!
Maldives - promo video

Vacation photos in the Maldives