Zoo in Monaco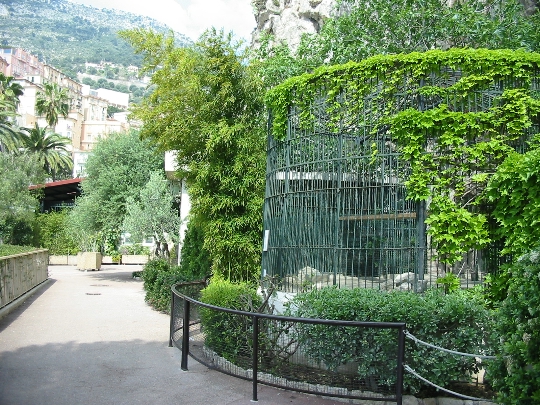 This zoological garden will not be able to compete with its famous colleagues in the largest metropolitan areas of the world. What can I say, the territory of the principality itself does not exceed two square kilometers. But still, a walk through the zoo in Monaco brings a lot of pleasant minutes to both locals and tourists with children..
Zoological garden of Monaco
Founded in 1954 by Prince Rainier III, the menagerie is located on the south side of Monaco's famous cliff. Two and a half hundred guests here represent only 50 species, but the name of the Monaco Zoo for the initiates is synonymous with a charitable institution where they help smaller brothers and carry out the rehabilitation of animals in trouble. The peculiarity of the park is that the local inhabitants were once abandoned by circus performers or turned out to be unnecessary for the former owners. In the zoological garden, they received comfortable living conditions, care and professional care.
Pride and achievement
The principality zoo is proud that some of the cured animals were released into the wild. In particular, wild leopards, who went to their homeland in Africa, gained freedom. Due to the small area of ​​the park, some animals, according to its organizers, do not receive the proper level of care, and therefore are transferred to large zoos in neighboring European countries..
Visitors to the Monaco Zoo can see exotic cockatoo parrots and small lemur monkeys, prairie dogs and funny raccoons while walking. Children are happy to communicate with domestic rabbits and goats and observe the habits of various reptiles in a large terrarium.
How to get there?
The zoo's address is Esplanade Rainier III, Fontvieille, 98000. Principality of Monaco. The easiest way to get there is with a rented car on the A8 motorway, taking the Monaco - Monte Carlo exit.
Helpful information
The opening hours of the Monaco Zoo depend on the season:
From October 1 to February 28, the park is open from 10.00 to 12.00 and from 14.00 to 17.00.
From March 1 to May 31 - from 10.00 to 12.00 and from 14.00 to 18.00.
From June 1 to September 30 from 09.00 to 12.00 and from 14. to 19.00.
On any Sunday, the zoo opens only at 14.00, and the ticket office sells the last tickets 45 minutes before closing.
The price of an entrance ticket to the park is very low - a child costs 3 euros, an adult - 5 euros, infants up to 8 months old have the right to visit the attraction for free. Photos and videos can be taken freely.
Services and contacts
Inside the park there is a playground for children, where the whole family can spend time outdoors..
The Monaco zoo does not have an official website, but details of its operation can be found at www.recreanice.fr.
Park phone +377 93 50 40 30.
Pictures of Monaco Zoo