Beaches in Budva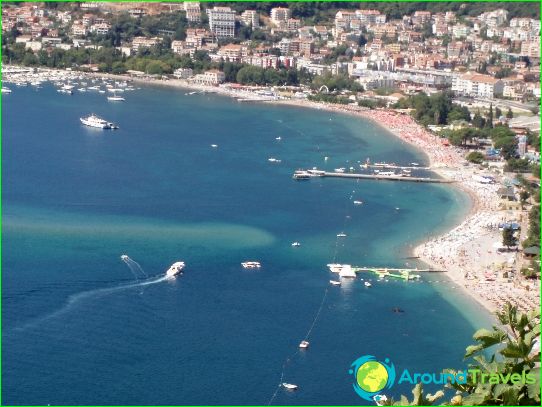 The main tourist center of Montenegro is the resort of Budva. It is here that some of the most comfortable and comfortable beaches of the Adriatic coast are located. The length of the coastal strip is about 12 kilometers. All the beaches of the resort have a well-developed accompanying service. There is literally everything here: bars, discos, restaurants, tennis courts, casinos, sports grounds. For outdoor enthusiasts, this place will be the perfect choice. In addition, Budva is one of the most famous ancient settlements located on the shores of the Adriatic Sea..
The sea in Budva is very clear and clean, thanks to the warm climate, the sea water warms up quite quickly - the swimming season here begins in May and ends in late autumn.
The best sandy beaches of Budva:
Yaz;
Mogren;
Slovenska;
Bechiki;
Kamenovo;
Milosher;
Sveti Stefan;
Fractions Pizhesak;
Petrovak.
Jaz is the famous and most visited beach, 2.5 km long, protected on both sides by the hills of Straza and Grbalja. The beach is located between the cities of Tivat and Budva. From the heat, you can take refuge in the Mediterranean greenery and get a safe and even tan in the shade. Note that the Yaz beach is protected, the safety of tourists and all vacationers is ensured.
Mogren
For tourists, the most attractive beach is Mogren, as it has impeccable natural conditions. It is a sandy beach, the sand is medium in size. Warm southern and gentle wind and bright sun are regular guests on this beach. Through the hotel complex Avala you can easily get to the beach along a narrow path. Here are the best sandy beaches in Budva, they are located next to the Spas mountain.
From the city port to the hotel «The park» the no less charming Slovenksa beach stretches. A small sandy beach called Guvans, which is about 80 m long, is located just below, that is, near the tunnel that leads to Bechiki. It is Bechiki that is one of the largest and most beautiful beaches along the Adriatic coast. The beach is covered with golden and very soft sand, its length is 1950 m. There is a large tourist complex nearby, which includes cozy hotels and comfortable houses. Here you can relax, sunbathe, wander through magnificent parks, play sports.
Literally all the beaches of Budva are distinguished by their extraordinary beauty. It is almost always bright and sunny here. Holidays at this resort will be bright and memorable.
Photos of the beaches of Budva