Traditional cuisine of Montenegro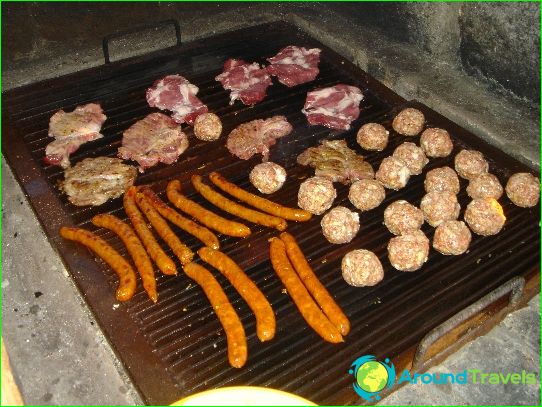 Food in Montenegro is characterized by simple, unpretentious and wholesome food. Regardless of the thickness of your wallet, any local establishment will serve you delicious food made with organic ingredients.
Food in Montenegro
The basis of the diet of Montenegrins is meat (pork, lamb), vegetables, spices, fish, seafood, cheese (feta cheese, rocked, kachamak, lipsky), soups (chicken, fish, vegetable, meat), flour products (Gibanitsa - pie with filling from cottage cheese; burek - pie with cheese or meat filling; various rolls, for example, with jam or poppy seeds).
Residents of Montenegro eat any dishes with a bite with stewed or fresh vegetables, homemade bread or flat cakes.
Arriving in Montenegro, you should try such national dishes as prosciutto (dried beef or pork ham), cevapcici (grilled cutlet), raznichi (meat wrapped in prosciutto and skewered), pleskavica (cutlet based on minced meat of three varieties) and others.
Where to eat in Montenegro?
At your service:
- Konoba (small restaurants where you can taste dishes of national cuisine made from products grown at home, not bought in a store);
- cafes and restaurants (here you can order not only Montenegrin, but also European and Mediterranean dishes, and many establishments have a menu for vegetarians and diabetics);
- outlets with local "fast food" (you can buy pleskavica on street counters).
If you need to buy food in Montenegro, you can do it in supermarkets, private shops, city markets and bazaars.
Drinks in Montenegro
Popular drinks in Montenegro - coffee, herbal tea, juices, mousses, wine, beer, fruit brandies (grape, pear, plum, apple).
The southern regions of Montenegro are famous for their well-developed winemaking, so when you come to rest in this country, you should definitely enjoy white (Chardonnay, Cabernet, Krstach) and red (Pro Corde, Vranac) wines.
Gastronomic tours to Montenegro
Going on a gastronomic tour to Montenegro, you can visit vineyards, see how wine is produced, visit Montenegrin villages and get acquainted with the way of life of local residents and taste their traditional dishes.
During such a trip, you will learn that, for example, in the northern highlands of Montenegro, dairy and meat dishes are widespread (you can visit local farms and pastures). In addition, there are many rivers and forests here, so here you will be treated to game and local trout fried in sour milk.
Arriving on vacation in Montenegro, you will be closely acquainted with delicious, hearty, distinctive and original national cuisine.
Photos of national dishes of Montenegro