Montenegrin cuisine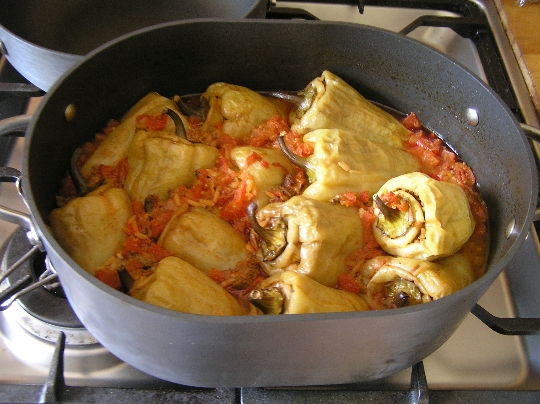 Montenegrin cuisine has become a distinctive phenomenon thanks to the influence of Turkish, Italian, Slavic and Mediterranean culinary traditions..
National cuisine of Montenegro
For the preparation of dishes in the country, fish, seafood, meat are used (greens, vegetables, corn bread are served with meat "proya"), cheese, vegetables. As a snack in Montenegro, preference is given to local cheeses and dried meat. It should be noted that fermented and salted milk is widely used. "kaymak": it is served both separately and as a cold snack.
Considering the Montenegrin cuisine, it is worth separately highlighting the coastal (fish and seafood dishes prevail: trout stuffed with prunes, pilaf with seafood) and the cuisine of the central regions (dairy and meat dishes are popular in the form "hangers" - chops with spices and"chevapchichi" - minced meat sausages).
Popular dishes of Montenegrin cuisine:
"Bravu Mlijeku" (lamb stewed in milk with potatoes and spices);
"juvech" (meat stewed with vegetables and rice);
"riblya chorba" (fish soup of different types);
"zelyanitsa" (pie with herbs and cheese);
"Tsrmnichskoe varivo" (vegetable-based dish with fennel and savoy cabbage).
Where to taste the national cuisine?
When tasting Montenegrin cuisine, you can be sure that they are healthy and have a natural taste (using environmentally friendly ingredients) - and all thanks to the fact that no chemicals are used in agriculture.
In Budva, you can look into "Restaurant jadran" (it is recommended to enjoy fried clams), in Kotor - in "Cesarica Restaurant" (the restaurant's menu includes black risotto and squid stuffed with shrimps), in Podgorica - in "Restaurant Dvor" (the institution invites guests to enjoy Montenegrin meat snacks, homemade cakes and Montenegrin wines). Tip: do not order several dishes at once, since the country has a rule "one dish" (restaurant guests are served large portions so that they can get enough of 1 dish).
Cooking courses in Montenegro
In Montenegro, namely in Herceg Novi and Rafailovici, 3-day courses lasting 6 hours are organized for those who wish. In these culinary classes, they will be taught how to cook Montenegrin dishes, having previously selected one of the following topics: "Montenegrin sweet table", "Classic Montenegrin dishes" and others. In addition, participants will be given advice on the purchase, storage and use of products, as well as share with them recipes for Bokel and Montenegrin cuisine..
A visit to Montenegro should be timed to coincide with the Food and Drink Festival (Tivat, June), the Day of Traditional Products (Pljevlja, April), as well as the Shiruna Day (a type of mackerel), which is celebrated in October in Budva (on this day, guests are delighted with tasting fish dishes , local beer and wine).
Photos