Dishes of Montenegro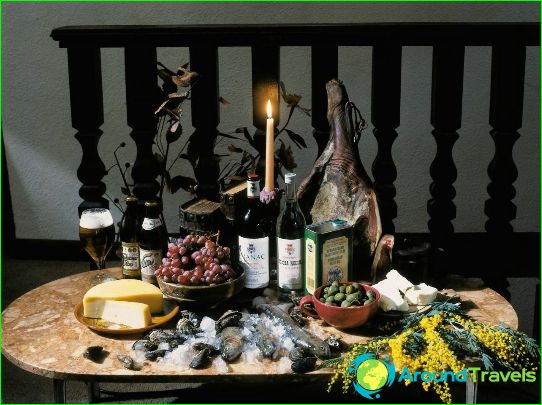 Montenegrin cuisine has absorbed the culinary traditions of different countries. It traces the influence of the Slavs, Turks, Germans, Hungarians. Many dishes of Montenegro are borrowed from other peoples. For example, pizza, lasagna and spaghetti.
Features of the national table
 The cuisine of this country is dominated by dishes that are prepared from meat and vegetables. They are distinguished by simple recipes and great taste. They are saturated with a fragrant aroma of spices. Meat dishes of Montenegro are often made on charcoal and using kaymak (fermented milk in a special way). The main product on the table is meat. Montenegrins use pork, lamb, goat meat.
Traditional meat dishes are pork chops, homemade sausages, meat roasted on a spit, kebabs, jerky lamb, stew with rice and vegetables, cold cuts, etc. A famous Montenegrin dish is prosciutto. This is a beef or pork jerky leg, which is cut into thin slices. It is used as a snack or as an additional product in main dishes. The ham has a specific and very pleasant taste. In addition, it can be stored for a long time..
Be sure to eat meat with vegetables. French fries, corn and wheat breads are popular..
The Montenegrin cuisine is characterized by the use of large quantities of cheese. The best varieties of cheese are considered to be Zlatibor, Kachamak, Kachkavali, Lipsky, etc. Cheese made from sheep or cow's milk is widely used in food. Montenegrins eat a lot of different types of bread, which symbolizes prosperity and harvest. White bread is certainly present on the home table. Of the dishes with meat and vegetables, cabbage rolls, sarma, pasul, stuffed peppers, moussaka with eggplants, tomatoes and meat, red pickled peppers, goulash with beans, etc. stand out. In Montenegro, they prepare chorbs - thick soups with chicken or fish. Seafood food is also very popular. The country's chefs make Dalmatian goulash with fish, riblya chorba, trout with prunes, risotto with seafood, etc..
Sweet food and drinks
Flour products are also very popular in the country. Culinary experts offer pies with cheese, cottage cheese or meat. It is customary to write burek or puff pastry with yogurt. Here they prepare pizza, donuts, pita with various fillings. For dessert, pancakes, sweet pies, Turkish delight, nuts in honey, rolls with poppy seeds and jam are served. The delicious food is complemented by local wine. Dry Montenegrin wines are very popular. The best among them are considered «Krstach» and «Vranac». Fans of strong drinks use fruit moonshine - brandy. Foamy drink connoisseurs enjoy local beer.
Photos