Prices in Agadir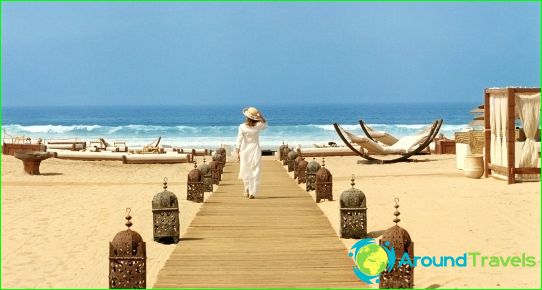 Agadir is a resort in Morocco, little known for Russian tourists. It is very popular with Europeans, especially tourists from France. Morocco surprises vacationers with Arabian exoticism.
Morocco's national currency is the Moroccan Dirham (Dh, MAD). On vacation in Agadir, you should pay with the national currency. Euros and dollars are not in circulation. There are coins (centimes) and banknotes in circulation.
Accommodation issues
Agadir has a wide range of conditions for recreation and living. Hotels and hotels of various levels operate there. In any hotel, tourists are provided with comfortable conditions and excellent service. 5 * hotels are intended for elite rest. A room in a 4 * hotel will cost 100 euros. You can rent a 3 * apartment in Agadir for 50 euros per day. During the low season, a double room in a 3-4 * hotel costs no more than 100 euros.
Each hotel has a vast territory and its own comfortable beach. Tourists are offered quality food and a range of additional services.
Excursions and entertainment
Tourists are offered a variety of excursion tours around Agadir and its surroundings. The cost of a sightseeing tour is from 100 euros. An individual guided trip to Essueira for a day will cost 250 euros. An excursion to Massa from Agadir costs from 150 euros. Horse and camel excursion costs from 70 euros.
Time passes quickly and cheerfully here. Tourists are offered horseback riding, surfing, fishing, sailing, etc. Entertainment for every taste is available in any hotel. Agadir is considered the pearl of Morocco. There are many historical sights here. Tourists who are interested in the history and culture of the country are advised to visit the medina of Agadir - the old district of the city. It is a tourist center that gives an idea of ​​the structure of the old Moroccan city..
Food in Agadir
Most vacationers prefer to eat in hotel restaurants. There are many catering establishments in the city offering tasty and inexpensive dishes. On the streets, you can buy food from mini-stalls. They mainly sell baked goods there. The cafe prepares khakira soup (from meat, chickpeas and lentils) for 5-7 dirhams. In budget cafes, tourists order tagines with different fillings for 20-80 Dh. Many cafes offer couscous on Fridays for 35-50 Dh. In general, food in Agadir is cheap, which allows travelers on a budget to visit any of the resort's restaurants..
Photos