Holidays in Morocco in March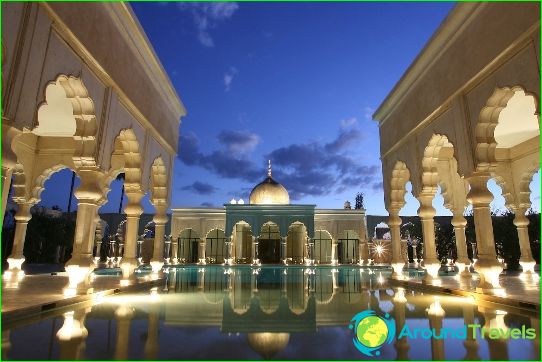 All adults remember, all children know about the beautiful Aladdin and his magic lamp, which the evil wizard from Maghreb tried to take away. An incomprehensible, amazing country was this very Maghreb for readers. And, by the way, now this place is known to many beach lovers - the kingdom of Morocco.
The country has long found its gold mine in the form of multimillion-dollar crowds of tourists who come here year-round. Holidays in Morocco in March will bring their portion of pleasure and good impressions to everyone, without exception..
How to get there
It will not be difficult for a Russian tourist to get to Morocco; it is worth making a bold choice in favor of one of two types of transport. First, there are regular flights from Moscow that operate all year round. In addition, charters are available during the summer. Secondly, you can go a longer way, by plane through Europe, then European beauty will be added to the African experience. If the path to Morocco lies through Spain, a wonderful romantic form of transport for tourists is the ferry.
Morocco climate
The climatic conditions of this North African country are strikingly different on the coast and in the Atlas Mountains. A mild subtropical climate meets lovers of beach and sea recreation, sharply continental with unbearably hot summers and snowy winters - mountain lovers.
Weather in Morocco in March
The high season is just about to come into its own, this is noticeable by the weather conditions in March and the presence of the first signs of tourists. The temperature in the capital of the kingdom reaches +19 ° C during the day, in Agadir +22 ° C, in Marrakech it is 1 ° C warmer. The sea water temperature is, of course, lower, around +18 ° C. The swimming season is opened by the most daring, the rest prefer sunbathing and hotel pools.
Excursion programs
Many tourists choosing a vacation in Morocco in March are not too interested in the increased amount of ultraviolet radiation. On the contrary, they go to this country to discover spring and enjoy the views of the African blooming nature and historical monuments..
Moroccan festival
It was the first month of spring that was chosen by the indigenous people of Morocco to host the famous Nomad Festival. The tourist is attracted by the amazing culture of these desert ghosts, who do not have a permanent residence. There is no concept for them «small homeland», they do not remember where they were born and do not know where their road will lead tomorrow.
At the festival, tourists have the opportunity to get acquainted with traditions, folk dances, watch camel races, animals develop a decent speed. At the fair, timed to coincide with the festival, you can taste hot cakes baked in the sand, buy souvenirs and gifts.
Holiday photos in Morocco