Holidays in Poland in August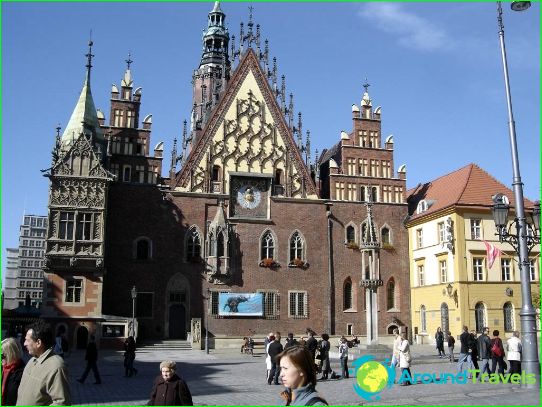 This European country can surprise any tourist who is looking for a miracle nearby, without seeking to leave to the other end of the planet. In Poland, you can go hiking or boating, climb the mountains or lie down on the beach, find a secluded corner of nature for a family vacation, or spend a sailing vacation. Holidays in Poland in August gives you the opportunity to go on a fascinating journey through the famous Polish fortresses and castles, descend into the Wieliczka salt mines or climb the upper floors of Warsaw skyscrapers.
August weather
The last summer month in blessed Poland is quietly hinting at the imminent arrival of autumn with its coolness and rains. Daytime and nighttime temperatures are slowly dropping, and sea bathing is no longer so attractive for tourists. But there is an opportunity to fill the day with pleasant walks along the coast and long journeys to amazing places in Poland..
Leisya, song!
Polish Sopot is well known in the territories of the former Soviet Union. Therefore, many tourists from Russia and neighboring countries, coming to visit and on vacation, try to visit this particular town. Moreover, in this city there are many hotels designed for different levels of tourists' income..
There are also spas in Sopot, where treatment is carried out with the help of mineral water from a spring named after St. Wojciech. A real balneology center is ready to provide a full range of medical services and physiotherapy procedures.
The city itself is very beautiful and cozy, has many attractions, including the famous «Dancing House», which the Poles themselves call the curve. Sopot is also proud of its wooden sea pier, because it is the longest among its European counterparts..
But the main dream of many guests of the city is the Forest Opera, the building of the famous festival, which opened many stars in the song sky..
Glory to the Polish Army!
On August 15, a holiday is celebrated, the main characters of which are Polish soldiers. But every resident of the country gets a legal day off. On this holiday, you can go to Warsaw, where a grand military parade is taking place. But festive events are also held in other Polish cities and towns..
Therefore, tourists, regardless of the place of rest, can take part in folk festivals, attend dances, theatrical performances. Tourists, adherents of the Catholic faith, can join the Polish faithful and take part in thanksgiving prayers.
Vacation photos in Poland