Lisbon beaches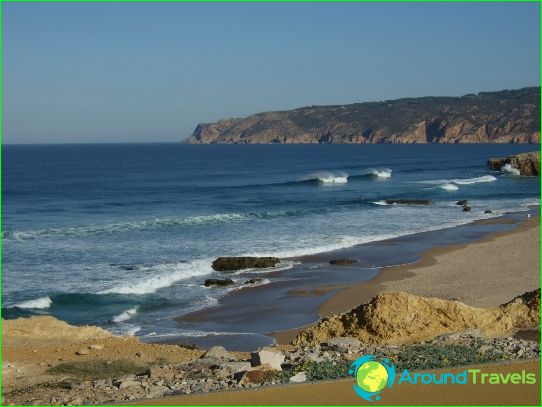 The capital of Portugal stands on a river, in which, for some reason, it is not customary to swim. But it's easy to guess why residents and guests of Lisbon prefer to splash in the waves of the ocean. Firstly, the river in a metropolis may not be clean enough, and secondly, near the salty water of the Atlantic, even the air is different. And so it happened that the beaches of Lisbon are located not within the city, but in the suburban area. They are called the resorts of the Lisbon Riviera, they can be reached within 15–20 minutes from the capital. This resort area, stretching from Cape Rock to the mouth of the Tagus River, is an excellent choice for those who are equally interested in relaxing on the shore and exploring the monuments of antiquity and culture. So, the best sandy beaches of Lisbon.
Carcavelos
The town of Carcavelos, located just 15 km from Lisbon, provides excellent conditions for both beach holidays and golf.
Sintra
This small town is extraordinarily romantic. It has striking beauty and is so distinctive that it is listed as a UNESCO World Heritage Site. Here, in addition to a beach holiday, you can enjoy the view of ancient castles and palaces, get acquainted with the ancient winemaking traditions. Even the tram line, and that has become a real museum, and with active exhibits: old trams go along it. These trailers were built over a hundred years ago, and they run from the town straight to the sea. And there are buses to Cape Roca.
Estoril
This is one of the most picturesque resorts in the vicinity of the Lisbon Riviera, with its luxurious villas. Here, not only are there good beaches, which are crowded and fun, the nightlife is still raging in the town. In addition to high-end luxury hotels, there are also wonderful golf courses. The largest casino in the Old World awaits for lovers of risk and gambling. There is also an airfield here..
Cascais
It is a beautiful and vibrant city with a wide variety of beach and nightlife options. Cascais fell in love with European aristocrats. Maybe that's why it became the center of sailing. It even hosts international windsurfing competitions. Naturally, there is a well-maintained yacht port, where all the infrastructure has been created for those who like to sail..
Costa da Caparica
This is not even a town, but a real fishing village with its characteristic flavor. It is good to relax here with your family. To be in such a place and not to taste the dishes of the local cuisine is to miss a good chance to enjoy fish dishes, especially fish stew «kaldeiradash».
Favorable time to relax on the Lisbon Riviera - from May to October.
Photos of Lisbon beaches