Lisbon suburbs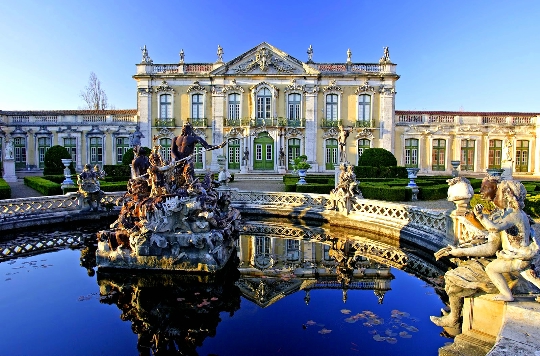 The westernmost capital of continental Europe, Portugal's Lisbon is a very interesting and picturesque city. It organically combines different architectural styles and eras, and its sights rightfully take pride of place in the list of the most interesting world masterpieces. Palaces and fortresses, basilicas and monasteries, theaters and art galleries allow the traveler to spend time in the center and suburbs of Lisbon interesting and varied.
Royal style
Are you dreaming of taking a tour of a real royal palace? Anything is possible in the Lisbon suburb of Queluz. A few kilometers from the center of the Portuguese capital in the middle of the 18th century, a magnificent Rococo palace was built, which in 1794 became the residence of Queen Mary. It was designed by the famous architect Mateus Vicente di Oliveira, and is decorated with luxurious rooms with stucco and carved wood, paintings and sculptures by masters from Italy and England..
The palace park is a wonderful example of landscape design. Summer pavilions are set on ideal lawns, and luxurious flower beds and fountains demonstrate the skill of the court gardeners in all their splendor. The palace serves today as a residence where foreign government delegations arriving on official visits to Portugal are received.
Catch the wave
Located in the bay of the Atlantic Ocean, the capital of Portugal also boasts magnificent beaches. In the suburbs of Lisbon, there are several resort areas where both locals and guests of the city prefer to relax:
Caxias is the closest beach to Lisbon. It is small in size and has a sandy surface. The beach is located near Fort San Bruno, and the easiest way to get to this resort is by train from the station in Lisbon.
On the Paso de Arcos beach, you can sunbathe and swim with great comfort - rental of sun loungers and umbrellas and a fresh shower allow families with children to come here. Lifeguards are on duty on the coastal strip, and the condition of the water is regularly monitored. Grab a bite to eat at the seaside bar or restaurant serving excellent local seafood.
In the Lisbon suburb of Oeiras, there is a wide sandy beach equipped with showers, sun loungers and umbrella rental. Here you can leave your car in a convenient parking lot, and for those who decide to use public transport, just walk a few minutes from the railway station..
Photos