Holidays in Portugal in July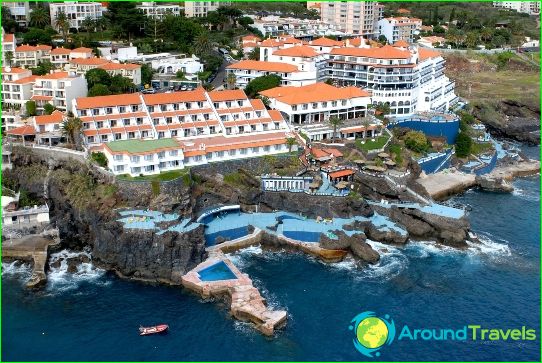 While this westernmost country in Europe is modestly hiding in the shadow of the great tourist business, Spain, however, tourists who have traveled half the world understand that Portugal has something to be proud of and something to show guests.
Holidays in Portugal in July will delight you with a chic pastime on the beach, acquaintance with the country's rich history and preserved monuments, delicious wines and seafood dishes. But you will not find a mass invasion of tourists here, so the vacation will be quite calm and secluded..
July weather
Midsummer is the hottest month in the Portuguese year, although it is far from world temperature records. Average monthly rates are at +27 ° C (+17 ° C at night) in Lisbon, +30 ° C (+16 ° C at night) in Evora. The coldest part is in Porto, where it is 24 ° C during the day and 10 ° C colder at night. Elderly people and mothers with small children can also afford to relax here. The water temperature on the coast is about the same, about +18 ° C.
Madeira awaits
This is a famous Portuguese archipelago, which is closer to Africa than to its home country. Guests who come on vacation get a full complex for relaxation - nature, sea, silence. Many of the guests of the island go for a walk along the alleys of the local Botanical Garden, from where magnificent sea views open up..
Balneological centers will help to restore lost strength and restore health; fans of fishing and golf, horse riding and diving will find something to do. Gourmets will appreciate the world's best Madeira, which started its triumphant march around the world from here..
Jazz on the island
The first week of July in Madeira is entirely devoted to jazz. It is here that the largest festival in Funchal, the main city of the island, takes place. Every year, an increasing number of performers and jazz fans visit this cozy place, delighting with red tile roofs and performances of the world's most famous musicians..
Invites Machiko
Having found a cozy spot in Madeira, this small Portuguese town does not want to keep up with the local leaders of the tourism business. Therefore, a large culinary festival is held on the border of July and August. The festivities are centered on all kinds of tastings of traditional food and drinks. But the celebrations are not limited to this, the program includes many other significant cultural, musical and even sporting events..
Holiday photos in Portugal