Airport in Zhukovsky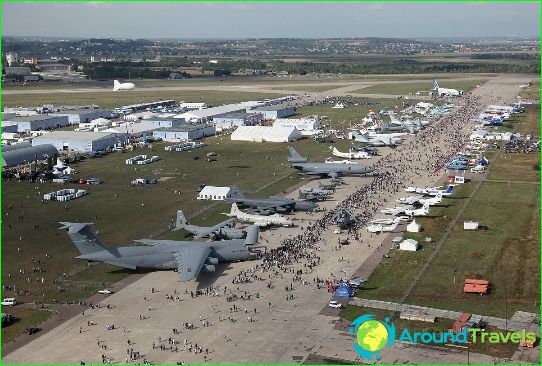 The airport in Zhukovsky is located in the village of Ramenskoye near Moscow, three kilometers from the railway station «42nd km» towards the southwestern part of the city of Zhukovsky, and bears the official name - airport «Ramenskoe». Its runway is almost 5.5 km long and is considered the longest in Europe..
The airport has international status and is able to handle more than five million passengers a year..
Aviation units of the Ministry of Emergency Situations and the Ministry of Internal Affairs of Russia, as well as such well-known airlines as «ALROSA-AVIA», «Aviastar-Tu» and others.
In addition, every odd year is organized here the so-called «MAX» - International Aviation and Space Salon. And every even year, starting from 2010, the International Forum is held «Technologies in mechanical engineering».
History
Until recently, the airport was not engaged in civilian transport. Since the beginning of the 80s of the last century, the airline has been used to transport a spacecraft «Buran» to the cosmodrome in Baikonur, with a special VM-T aircraft.
Today Ramenskoye is one of the largest international airports in Russia, serving a number of airlines in the world.
Since 2015, the airport plans to cooperate with the low-cost airline Dobrolet. In European sources, you can find the following names of the airport: Ramenskoye, Podmoskovye, Podmoskovnoye, or Zhukovsky. All these are the names of one airport in Zhukovsky.
Service and service
Like many international airports, Ramenskoye Airport has a convenient navigation system. All signs, inscriptions and informational announcements are in two languages. On the territory of the airport, a mother and child room, a luggage room, a post office, ATMs, and an information desk work around the clock. At the disposal of passengers is a cafe, a restaurant, an arcade of shops, a hotel.
For VIP-passengers there is a conference hall and a meeting room.
Transport
From the airport to Moscow, buses and fixed-route taxis run constantly, with an interval of 10 - 15 minutes. Travel time depends on the end point of the deployment. Considering Moscow traffic jams, it will take from 30 - 40 minutes to 1.5 - 2 hours..
You can also travel to Moscow by train from the 42nd km station or by tram. The most popular type of transport among passengers is a taxi, which can be ordered by phone directly from the plane while still in the air..
Photos of the airport in Zhukovsky