Nizhny Novgorod metro: map, description, photo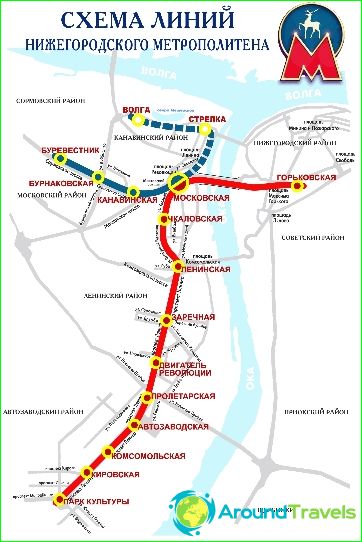 The metro in Nizhny Novgorod was opened in 1985. This is the third metro in Russia. In the USSR, he was the tenth in a row.
Plans for the construction of a metro in Nizhny Novgorod emerged at the dawn of the metro construction, when the subways of the largest cities (mainly the capitals of the republics) of the Soviet Union were being created, but in reality, planning began only in the fall of 1973. specialists. However, this was not without red tape - the first piles of the Nizhny Novgorod metro were driven in only 4 years later. Now, at the site of the start of construction in the tunnel of Leninskaya station, you can see a memorial sign - it was from here that the laying of the first stage of the metro began. 8 years after the start of construction on November 19, 1985, the Nizhny Novgorod metro received its first passengers. The Nizhny Novgorod metro is shallow - only 2 metro stations have escalators.
By the beginning of 2013, the metro of Nizhny Novgorod consists of two lines - Avtozavodskaya and Sormovskaya and 14 stations, the total length of tracks is 18.9 km. The volume of passenger traffic is slightly more than 100 thousand passengers per day.
Opening hours of the Nizhny Novgorod metro
The Nizhny Novgorod metro is open from 5:15 am to 00:00 am. Intervals of train traffic during peak hours are from 4 to 12 minutes, depending on the line (the most loaded - Avtozavodskaya line on the sections from Moskovskaya station).
Travel in the metro of Nizhny Novgorod
Currently (March 2014) tokens and tickets are used as payment for metro fares. In the near future, within the framework of measures to prepare Nizhny Novgorod for the European Football Championship, it is planned to introduce contactless cards, as well as the introduction of general tickets for all types of public transport. Children under 7 years old are entitled to free travel.
Photos of Nizhny Novgorod metro