Nizhny Novgorod in 1 day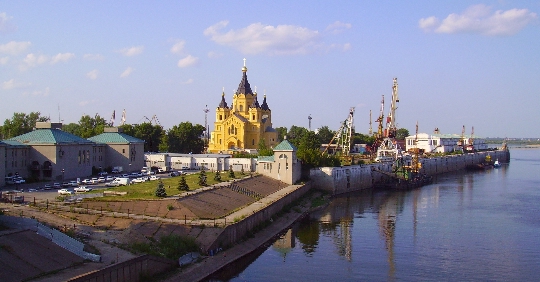 The first mention of Nizhny Novgorod is contained in written documents of 1221. Today the trading capital of Russia is one of the largest cities in the country, famous for the annual Nizhny Novgorod fair held here. During the summer navigation, dozens of cruise ships dock in the city, whose passengers can see Nizhny Novgorod in 1 day and visit its most memorable historical sites..
Eight unique centuries
The history of the city is rich in events, each of which is reflected in its present appearance. Located at the intersection of trade routes, Nizhniy made a significant contribution to the state economy and became the center around which people rallied in hard times. The heart of the historical part of Nizhny Novgorod, which is quite possible to bypass in one day, is the territory of its Kremlin.
Built at the beginning of the 16th century, the Nizhny Novgorod Kremlin performed defensive functions. It was a real fortress, the walls of which stretched for more than two kilometers, and 13 watch towers made it possible to timely see the approach of the enemy. Of the many churches that existed on the territory of the Kremlin, only the Archangel Michael Cathedral has been preserved to this day..
The best way to walk around the old town is along Bolshaya Pokrovskaya Street. It is pedestrianized and originates from the Minin and Pozharsky Square, who led the liberation movement against the Poles during the Troubles in 1612. Special features of Bolshaya Pokrovskaya - a large number of bronze sculptures.
Temples of the Lower
Once upon a time more than 50 operating churches were opened in Nizhny Novgorod. One of the most beautiful and majestic religious buildings is the Pechersky-Voznesensky Monastery. It was founded by the monk Dionysius in the first third of the 14th century. The original structures were lost as a result of a landslide, and the modern walls of the temples within the monastery were rebuilt in the middle of the 17th century..
No less famous is the 13th century Annunciation Monastery, the construction of which was begun shortly after the founding of the city itself. Of the churches, the most attractive is Smolensk, built at the expense of the patrons of art, the Stroganov merchants. The facades of the Old Fair Cathedral were designed by the architect Auguste Montferrand, who was famed for the implementation of the project for the construction of St. Isaac's Cathedral in St. Petersburg.
For friends and family
Souvenirs from Nizhny Novgorod will be an excellent gift and an occasion to remember the beauty of the old Russian city more than once. It is best to buy products of local craftsmen in shops and shops on Bolshaya Pokrovskaya Street, where you can find the richest assortment of various goods.
Photos