Samara metro: map, description, photo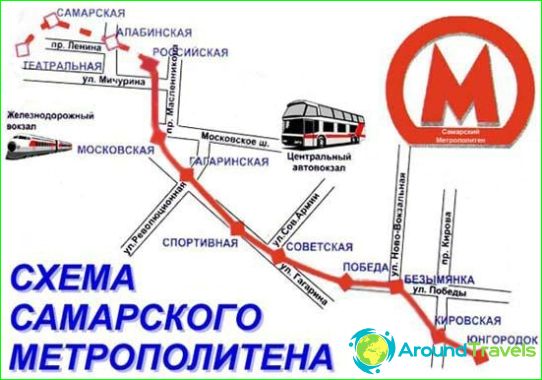 The Samara metro was opened on December 26, 1987. This is the fifth metro in Russia. As of March 2014, it represents one line and 9 stations. one of which is ground. Total line length - 11.4 km.
The project for the construction of a metro in Samara (then Kuibyshev), proposed by A.A.Rosovsky in 1964, was approved only in 1977, and the first work began in 1978. The original plan called for the construction of a line with 13 stations. In the fall of 1980, tunneling began in the city center, but the work was suspended - the tunnels were mothballed, and construction was moved to industrial areas.
The complex landscape of the area, where the slope between the stations was about 50 meters, as well as the soil consisting of dolomite rocks, impeded the rapid construction. The metro builders were faced with the task of having time to open the metro by the 70th anniversary of the celebration of the October Revolution. That is why, despite the imperfections, on December 25, 1987, the state commission signed an act on the acceptance of only 4 metro stations, and the next day the Samara metro accepted the first passengers. In the first year of the metro's operation, it transported more than 12 million passengers..
The nearest plans of the Samara metro are the construction of new stations: "Alabinskaya", "Samarskaya", "Teatralnaya", as well as the second metro line, which will connect the railway station and the bus station.
Samara metro opening hours
The metro in Samara operates from 6-00 to 24-00. Walking passages - around the clock. Train intervals are 7-9 minutes. Travel time from the terminal stations (from the station Yungorodok to the station Rossiyskaya) is 19 minutes.
Payment for travel in the Samara metro
You can pay for the fare in the Samara metro with a transport card and plastic tokens, which are sold at the metro ticket offices. Children under 7 years old accompanied by adults enjoy free travel. In addition, free travel is provided for certain categories of citizens with social benefits..
Photos of Samara metro