What to do in Suzdal?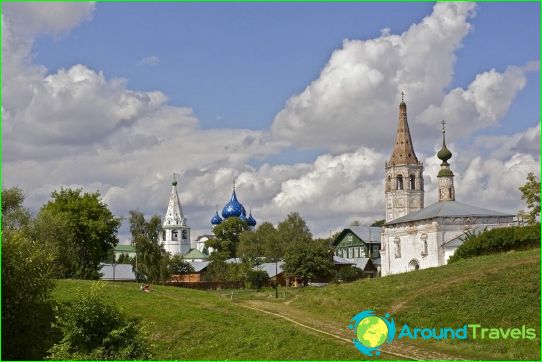 Arriving in the ancient and picturesque city of Suzdal, you will get acquainted with the traditions, architecture and history of your native country, as well as taste traditional Russian drinks (mead, sbiten, kvass).
What to do in Suzdal?

Go to the Museum "Shchurovo settlement" (here you can shoot a bow, ride horses and even cook something in an old oven) and the Museum of Wooden Architecture (here you can see the recreated huts, mills, barns, wells, the Resurrection and Transfiguration churches);
Visit the Pokrovsky, Spaso-Evfimievsky and Rozopolozhensky monasteries;
Explore the Suzdal Kremlin and Gostiny Dvor of Suzdal;
Go fishing and hunting.
What to do in Suzdal?
It is advisable to start your acquaintance with Suzdal from the main attraction of the city - the Kremlin (pay attention to the Bishops' Chambers: they are considered the standard of Russian architecture), where there is a beautiful church - the Cathedral of the Nativity of the Virgin.
It is worth visiting the Suzdal Prison (Lenin Street) to look at the brick wall preserved here, the prison courtyard, dark cells and corridors. Here you can see papers storing information about Suzdal prisoners, view photographs, unique objects, books, laser license plates, handcuffs, homemade prayer books.
At your leisure, you can go to the Museum of Wax Figures (Kremlevskaya Street) - here you can see Ivan the Terrible, Stalin, Khrushchev and more than 150 wax figures, including great Russian writers, military leaders, emperors from the Romanov family, famous movie heroes.
The evening can be spent in a Russian bath, for example, in a bath complex "Hot Keys".
In the afternoon, in addition to visiting museums and architectural structures, you can ride horses (horseback or carriage).
You should definitely go to the City of Craftsmen - here you can shoot a bow and learn how to sculpt clay pots. And those who want to see how real blacksmiths work can go to the Blacksmith yard.
After visiting the Museum of Wooden Architecture, you can ride a boat (the rental base is located opposite the museum) or take a river tram along the Kamenka River. A river walk will allow you to enjoy picturesque views of the Kremlin, shopping arcades, Suzdal meadows and churches.
Active tourists can go for an ATV ride. Surely, you will appreciate the charm of a fascinating trip through the hills, hills, hillocks and slopes. You can ride ATVs at any time of the year - both in winter and in summer: while riding along paved routes in the vicinity of Suzdal, you will see picturesque places (forest, fields, river banks).
You can play paintball in a pine forest (there is a special area equipped here), which is located not far from Suzdal. After the game, you can have a picnic with barbecue cooking on the grill.
Arriving at the city-museum of Suzdal, you can visit an ecologically clean place (there are no industrial enterprises in the city) and experience incredible sensations, getting in touch with the history of this amazing place.
Photos where you can go in Suzdal