Children's camps in Belgorod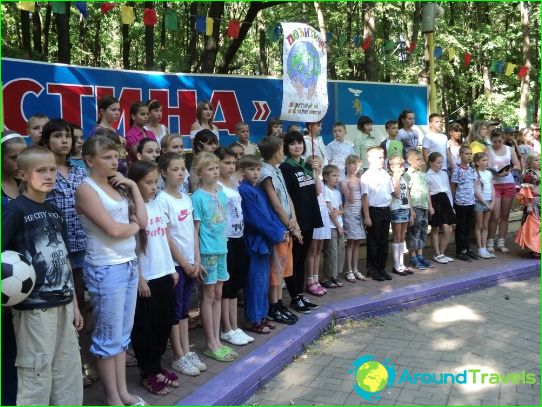 Belgorod is located in the south of the Central Russian Upland, next to the Seversky Donets River. The city is 700 km away from Moscow, and 40 km away from Ukraine. Tourism in Belgorod is very well developed, as the settlement has a long history. This city is the administrative center of the Belgorod region. He was the first to be awarded the title «City of Military Glory» and several times took 1st place in livability and cleanliness among Russian cities. Today it is considered the cultural, scientific, spiritual and economic center of the Central Black Earth Region of the Russian Federation. The sphere of children's recreation and tourism is under the close scrutiny of the authorities. Funds are allocated from the budget for the development of the infrastructure of health centers.
What camps operate in the city
Children's camps in Belgorod are divided into sports and recreation and specialized. The latter cover a variety of topics: artistic, scientific, sports and language. There are labor and equestrian camps near the city. The programs of the institutions are designed in such a way that children take part in interesting sports activities. There are specialized and training camps for schoolchildren. They are created for children who seek to gain new knowledge in certain areas..
Labor camps are being created on the basis of Belgorod schools, organizations and enterprises. Such organizations require unskilled or seasonal work. Children work in them for a maximum of 4 hours a day, and then cultural and entertainment events are held for them. Labor camps are usually free of charge. Parents pay only for baby food. There are also religious camps in Belgorod. Accurate information about them can be obtained from the nearest church..
Children's camp programs
If you would like your child to take part in the travel program, please contact the tour operator. Belgorod camps and recreation centers offer a variety of adventure programs and excursions for children. The program may include a visit to a national park, a visit to a museum, a trip to archaeological sites, etc..
When choosing a voucher, consider the costs. Excursions are not included in the compulsory camp program. You have to pay for them separately. Children's camps in Belgorod often provide bonuses and discounts. When planning to buy a ticket, ask if you can count on them. Children's institutions pay special attention to additional services, programs, promotions and excursions. Before the child's trip to the camp, parents can get a complete list of recreational activities that will be held there..
Photos of children's camps in Belgorod