Belgorod observation decks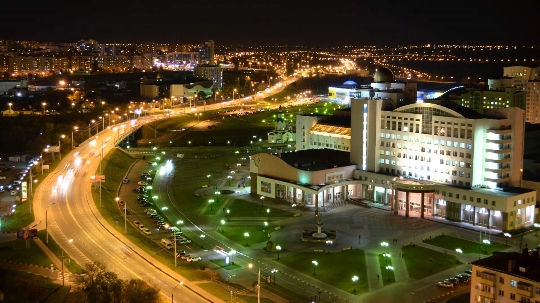 Observation platforms of Belgorod allow guests of the city from an unusual perspective to admire the amazing landscape, temples and cathedrals (Uspensky-Nikolaevsky, Archangel Gabriel, Nikolo-Ioasafovsky), original monuments (for example, a monument to an honest traffic cop), as well as monuments erected in honor of famous personalities.
Observation deck in front of the monument to Prince Vladimir
The height of the monument is 22 m; and from one of the best observation platforms located in front of it, you will be able to admire the panorama of the northern and central parts of Belgorod. Address: Vatutin Avenue, 1g.
Panoramic restaurant "Mezzanine"
Restaurant located in the complex "Mega Grinn" (6th floor), allows visitors to enjoy simultaneously Italian cuisine, the best wines and panoramic views of Belgorod.
How to get there? You can use the services of fixed-route taxi number 43 (address: Prospect Bogdan Khmelnitsky, 137T).
Ferris wheel
Those who wish can admire the panorama of Belgorod from a 35-meter height (special views open at sunset and at dusk, when the illumination is lit in the city), having a ride on the attraction (a total of 39 cabins, each of which can accommodate up to 6 people; a ticket costs 100 rubles) located in the park named after Lenin.
In addition, the park has other attractions ("Swans", "Vortex", "Turntables", "Hip-hop", "Ranger"), walking paths, cafes, airsoft shooting range, rope park, children's playground, rollerdrome.
Address: Ostrovsky street, 20; link to the website: www.belpark.ru
Other observation decks of the city
The following objects act as alternative viewing platforms in Belgorod:
Cross next to the car market: an alternative viewing platform is located on the top of the White Mountain near the cross - from here it is proposed to admire the chalk mountains, as well as the sculpture "Stonecutter". Address: you will be able to find the desired object at the intersection of Studencheskaya and Melovaya Streets (public transport will take you here, moving along routes No. 115 and 39; the Church of the Holy Trinity is located nearby).
BSTU named after Shukhov: the observation deck on the territory of the university is an example of landscaping using elevation differences and landscaping elements (those who want to enjoy a unique view of the city flock here). Address: Kostyukova street, 46.
Parking near the cemetery (Zheleznodorozhnaya street): even if you have any fears, they should be discarded and go to inspect the panorama of Belgorod.
Residential complex "Silver horseshoe": from here there will be a chance to see the central area and the city beach of Belgorod (the higher you go, the more large-scale views will open to your eyes). Address: Akademicheskaya street, 23a.
Photos