What to do in Belgorod?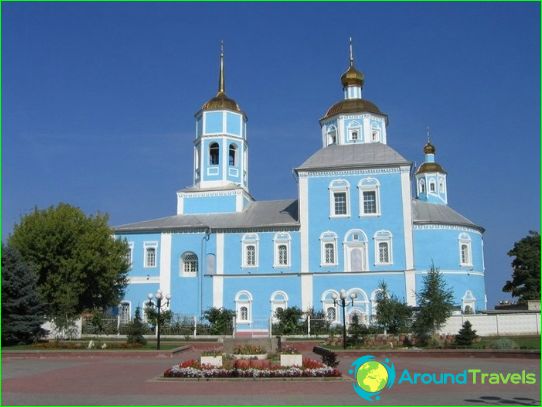 Belgorod is famous for its sights - ancient temples and newest skyscrapers, museums, monuments, sculptural compositions.
What to do in Belgorod?

Visit a wooden church - the Church of Saints Faith, Hope, Lyubov and their mother Sophia;
See the old Smolensk Cathedral;
Look at the bright decoration of Belgorod - the Sundial (installed on Narodny Boulevard).
What to do in Belgorod?
Walking around the city, you can see monuments depicting a cat and a janitor, a traffic cop holding a striped baton, a grandmother knitting a sock. Walking along the Museum Square, you can see the beautiful fountain of Belgorod - "Salute" (it is illuminated in the evening).
You can take a walk along Preobrazhenskaya Street: here you can see the mansion of the merchant Selivanov and go inside - there are two museums dedicated to electricity and literature..
Arriving in Belgorod, you should see the Intercession Church and the remains of the Nikolaevsky Monastery.
You should definitely go to the Botanical Garden to see the magnificent landscape ensemble with different natural zones and the richest collections of plants..
Having gone to the Lenin Park, you can relax in a wonderful place: there are lawns, squares, living fences, attractions for children and adults, a shooting range, a stereo cinema, a rollerdrome. On weekends, the park hosts various entertainment events, including concerts of Russian stars..
Children should be taken to the children's center "Tropicano" - little visitors will be enchanted by the figures of cartoon characters decorating the courtyard of the center. Children are waiting for animators, games, contests, soap bubbles, children's disco, face painting, festive table.
Active tourists will also be able to find entertainment in Belgorod. So, you can go to the motorsport complex "Turn", where you can go karting, paintball clubs (there are 5 of them in the city), on a roller ski track (here you can go skiing and rollerblading).
Rest in Belgorod involves not only exploring local attractions, but also practicing active sports that will charge you with energy and give you an unforgettable experience..
Photos where you can go in Belgorod