Excursions in Novosibirsk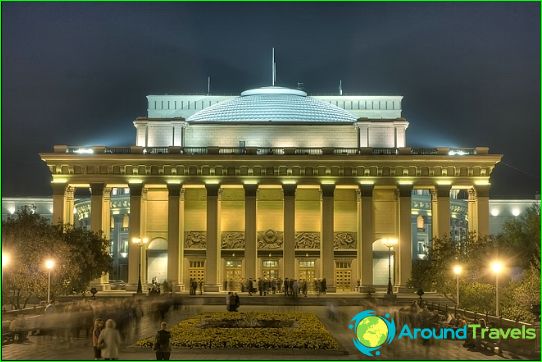 Today Novosibirsk is not only a large Russian metropolis, but also the cultural center of all Siberia. Located at the intersection of two most important transport routes for the country - the Trans-Siberian Railway and the Ob River - in just a few decades, it turned from a young settlement into the main city of Siberia. It is not surprising that tourists come here from all over Russia to visit interesting excursions in Novosibirsk.
Walk through the sights of the city
The city is still young, in 2013 residents celebrated the anniversary - 120 years have passed since the founding of Novosibirsk. First, guests of the city visit the historic center. The place where the first settlement was founded is still carefully preserved. The first brick building built in the city has also survived. This is the Alexander Nevsky Cathedral. Particles of the saint's relics and several ancient icons have been preserved in the church..
Having examined the place where the city was founded, it is worth going to its main square and strolling along the streets. The sights of the city are closely related to the name of the architect A.D. Kryachkov, who designed many beautiful buildings in Novosibirsk. Sightseeing tours in Novosibirsk include evening walks. Late in the evening, tourists will find a wonderful show of the color and music fountain on the embankment.
Wildlife and museums
Along with historical monuments, many unique complexes have settled in Novosibirsk, telling about the unique Siberian nature. Among them:
Museum of Local Lore (Department of Wildlife);
Novosibirsk Zoo;
Museum of Geology;
Paleontological Museum;
Zoo museum;
Botanical Garden.
Back in the Soviet years, Novosibirsk became one of the country's scientific centers and is still considered it by right. There are about 10,000 different plant varieties in the greenhouses of the Botanical Garden. Nobody can remain indifferent to the beauty of some exotic types of flowers.!
For lovers of technology, a unique open-air museum has been opened in Novosibirsk: the Museum of Railway Transport. The collection contains about 70 types of steam locomotives, diesel locomotives and wagons. All equipment used to run on the Siberian railway. The collection now occupies 6 tracks and is open to the public.
Excursion to the temples of Novosibirsk
For people interested in religion, not so long ago, a tour of local temples was developed. In addition to Orthodox churches, there is a Catholic church and an Islamic mosque in Novosibirsk. During the excursion, tourists will be introduced to the history of the churches located in the city..
Photos of excursions in Novosibirsk