Tours to Yaroslavl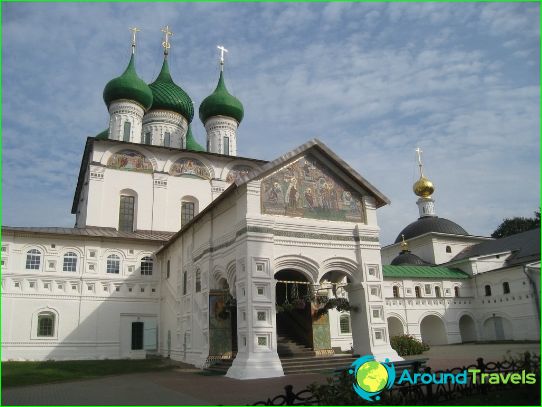 Founded in 1010, Yaroslavl is one of the oldest Russian cities. Due to its important historical and cultural significance, Yaroslavl is included in the famous tourist route of the Golden Ring, and its old center is protected by UNESCO and is on the World Heritage List. You can go on tours to Yaroslavl by train or plane, bus or car. The most pleasant way to find yourself in an old Russian city in the summer is a cruise along the Volga on a motor ship.
Briefly about the important
During the moderately cold but snowy Yaroslavl winter, the daytime air temperature reaches –15. In summer, temperature records are recorded at around +30 and above, and therefore the most comfortable time for a tour to Yaroslavl is spring or early autumn..
The best way to get around the old part of the city is on foot. All major historical and architectural landmarks are located in sufficient proximity to each other. Buses, trolleybuses and trams operate in the city as public transport.
The most famous place for walks and photo sessions is located on Strelka. This is the place where the Volga and Kotorosl rivers meet. On Strelka, a public garden is laid out and a whole cascade of fountains with lighting and musical accompaniment was built.
City Day in Yaroslavl is celebrated on the last weekend in May.
In August, the Dobrofest rock festival is held on the territory of the Levtsovo airfield, in which both beginners and monsters of modern rock art take part.
There are 140 architectural monuments in the historical center, most of which are quite realistic to see within the framework of even a one-day tour to Yaroslavl.
You can go on an excursion to the old Russian city on weekends. The journey from the capital takes about four hours by train, and hotels for spending the night here are open for every taste.
Walk along the embankment
One of the most beautiful places in the city is the Volga River embankment. Squares and parks, ancient buildings and monuments, gazebos and flower beds - there are dozens of memorial sites and structures on the embankment. For fans of an active lifestyle on the banks of the Volga there are rollerblades and bicycles for rent, and those who prefer water sports can ride a jet ski or boat.
Souvenirs during the trip are best bought on the Kirov pedestrian street in the city center. Dozens of shops and handicraft centers are open here, and in the "Actor" cafe you can taste Russian cuisine or have a cup of excellent coffee..
Photos