Observation decks of Yaroslavl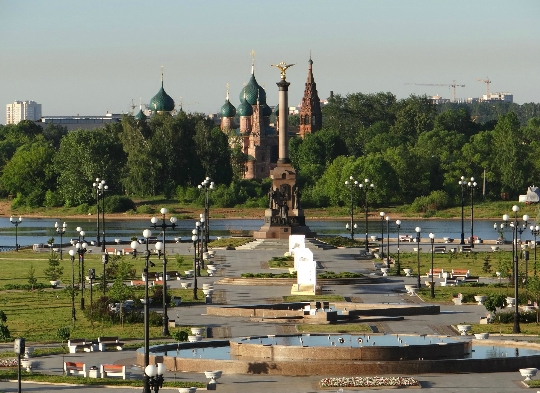 Climbing to the observation platforms of Yaroslavl, visitors will be able to admire from a height the churches crowned with delicate golden crosses, the Volzhskaya embankment, the Governor's garden, guest houses located in old mansions.
Belfry of the Transfiguration Monastery
In the monastery, you should see frescoes from the era of Ivan the Terrible, ancient icons, a refectory chamber, cells (monks lived here in the 17th century), look into the museum, where thematic exhibitions are held, and guides tell guests about ancient Russian art. The height of the monastery belfry is over 30 m; on its upper tier, the best observation deck is equipped (it is the hallmark of the city), climbing which a breathtaking view of the central part of Yaroslavl, of the stadium will open before visitors "Shinnik", color and music fountains on Strelka, the main church sights of the city (in particular, on the domes of the Assumption Cathedral and the Church of Michael the Archangel) and other objects.
Address: Epiphany Square, 25.
Yaroslavskaya Strelka
Visitors to this place will be able to see the monument to the 1000th anniversary of Yaroslavl (stele, more than 20 m high), as well as admire the view of the Volga, the Assumption Cathedral and the right bank of the Kotorosl River that opens from here (in the distance you can see the temple complex in Korovniki).
How to get there? From the railway station by minibuses No. 81 and 45 or buses No. 76 and 8.
A restaurant "Vanilla Sky"
The institution pleases visitors with dishes of oriental and European cuisines, and thanks to the presence of panoramic windows during a meal, visitors will be able to admire the Volga, motor ships, "sliding" along the river, and in the evening - with a starry sky (a large open area adjoins the main hall, in the middle of which there is a cafe-gazebo in a country-European style).
Address: Volzhskaya embankment, 2.
Gazebo on the Volzhskaya Embankment
Standing inside an open 6-column rotunda gazebo with a dome, vacationers will have a chance to admire the local open spaces.
Ferris wheel
Guests of Yaroslavl will find this attraction in several places of the city - at their service:
The park "Oilman" (address: Pavlova street, 2b): in addition to the main attraction, 27 m high, which allows you to see Yaroslavl from a height, there are 15 more, as well as a pond with ducks floating on it.
The park "Anniversary" (address: Lenin Avenue, 24b): there are 15 attractions, among which guests are interested in the Ferris Wheel - although it is not as high as in the park "Oilman", but from it you can see the beauty of Yaroslavl. It should be noted that the park is a venue for sports competitions, holidays, concerts and thematic meetings. How to get there? Buses No. 11, 9, 30, 85 and trams No. 1, 3 and 7 will take you to the park..
Photos