Beaches in Moscow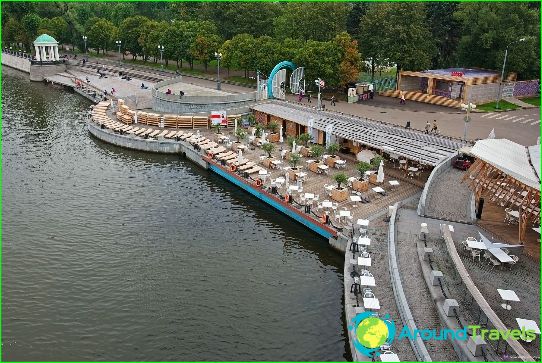 Temporary and permanent residents of Moscow do not have to travel outside the city to get a beautiful bronze tan and plunge into the coolness of the river. In the capital of the Russian Federation, there are many places where you can take a good break from working days, get a tan and teach your child to swim. The beaches of Moscow, of course, differ from the Crimean or Sochi beaches, but people come there with pleasure..
Gorky Park
This place is suitable both for those who just want to have a cultural rest with a book, and for those who want to refresh the skin a little after winter, exposing it to the sun's rays. There are many venues here, specially equipped for this purpose. Near the very entrance to the park, huge orange pillows are literally scattered in the grass, on which you can freely and completely free of charge spread out in order to get tanned. In the quiet green depths of Gorky Park, there is a real corner for lovers, where couples in love can take one sun lounger for two. Also in the park there are «Olive Beach» with a paid entrance, where everyone can rent soft sun loungers.
«Rublyovo» for all
One of the cheapest and at the same time the best sandy beaches in Moscow is the beach «Rublyovo». It is located in Zhivopisnaya Bay, which fully justifies its beautiful name. The entrance price here is very democratic - only 100 rubles. Of course, for this reason, there are always a lot of people here, especially if the weather is favorable for this. On this beach, you can not only sunbathe, but also engage in active leisure activities and strengthen your body: play volleyball, ride a catamaran or boat, try yourself in water skiing. The crowded beach also pays off by the fact that it is open from 9:00 to 21:00, so even those who managed to leave work early on a weekday will be able to enjoy the pleasant breeze at least a little. There is a shower on the beach where vacationers can cool off or freshen up. Lovely fountains with drinking water are also a very nice addition. In the evening, discos are often held here..
You can rest not only on the banks of the Moskva River, but also near numerous lakes and ponds, which are located not far from Moscow or even within its limits. The following beaches are available to Muscovites:
Beach «silver Forest»
Beach «Borisov ponds»
beach on lake Meshcherskoye
«Levoberezhny» Beach
beach on White Lake
The beach on the White Lake is located in the Kosino area, and the entrance to it is absolutely free. Here you can not only sunbathe, but also swim - the water is quite clean, and the bottom is not dangerous at all. Best of all, this beach is suitable for those who live close to this area..
Photos of beaches in Moscow