The best resorts in Russia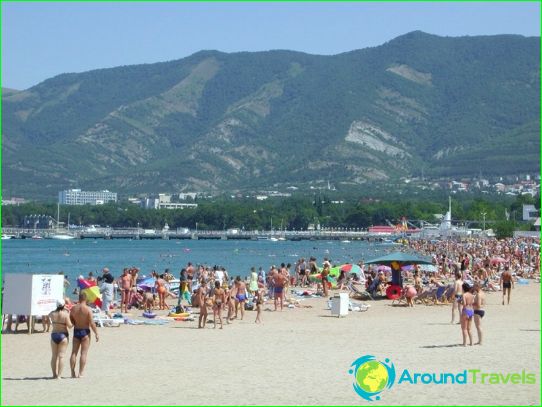 The vast expanses of Russia offer many places where you can relax no worse than the notorious Turkey or Egypt. True, it is rather difficult to choose: the geography of the country is simply huge. But, nevertheless, the best resorts in Russia are always ready to receive their guests..
Essentuki
The most visited resort area in the country. Tourists are attracted here by the healing power of the famous mineral waters, magnificent nature and a huge number of architectural monuments.
There are many different sanatoriums in Yessentuki, differing both in their price category and in their medical profile. Everyone will definitely be able to choose the most optimal option..
Essentuki will not be boring even during a quiet family vacation and a noisy youth company. There is plenty of entertainment here. And if a married couple is interested in visiting a concert hall, then the young company will prefer to go to one of the many night discos.
Anapa
The well-developed infrastructure of the resort town makes it the most visited in the country. The sun shines here almost all year round. Picturesque landscapes of the Caucasian foothills and golden sandy beaches are always waiting for their guests.
Betta
A small but surprisingly beautiful resort village on the outskirts of Gelendzhik. The resort is located in a green valley on the banks of the river of the same name.
Betta has its own beach, 300 meters long, covered with natural sea pebbles. Those who like to observe the life of the underwater world will definitely like it here. Not far from the coast, there are several places where the bottom is covered with small rocks, which have become a support for various algae. Many beautiful fish can be seen here.
Not enough variety? Then in Betta you will be offered to go fishing, ride horses, walk to the waterfalls or visit the ancient dolmens.
Tuapse
The resort town of Krasnodar Territory Tuapse is located in the bend of two large rivers at once: Spider and Tuapse. Eco-tourism, popular in Western countries, has finally reached Russia, so an increasing number of tourists rush here, trying to breathe the clean air of protected nature.
Tuapse has a completely unique climate, as well as many reserves with rare plants listed in the Red Book. The infrastructure of the city is well developed, so the rest here will be simply unforgettable..
But other regions of the country should not be ruled out either. Mother Russia is always ready to surprise travelers. One has only to unfold the map and select. The best resorts in Russia are always glad to their guests.
Russia, Karelia (recreation and tourism)

Photos of Russian resorts