Singapore islands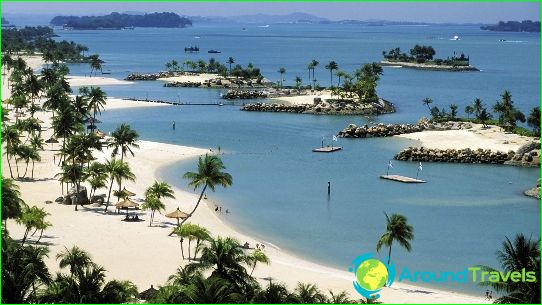 The Republic of Singapore is located in Southeast Asia. It is a city-state that occupies islands separated by the Strait of Johor from the Malacca Peninsula. The islands of Singapore are bordered by Indonesia and the Sultanate of Johor (Malaysia). The state currently owns 63 islands. The main one is Singapore. The largest land areas are also Ubin, Sentosa, Brani, Tekong Besar, Sudong and Semakau. The area of ​​the country is steadily increasing due to land reclamation.
Singapore weather conditions
The country is located almost at the equator. Therefore, the air temperature here changes insignificantly. This is an area of ​​equatorial climate. There is a lot of precipitation here. The minimum temperature recorded in the city was +20 degrees, and the maximum is +36 degrees. The islands of Singapore are free from both extreme heat and cold.
Natural features
One of the best islands is Sentosa. There are good sandy beaches there. The largest amusement park on the planet - Universal Studio - operates on the island. In addition, there is a huge oceanarium here. «Sea life». The main island of the state, Singapore, is the most interesting attraction. It is also called Pulau Ujon. The island has 4 quarters: Indian, Chinese, Arabic and Malay. Most of the country's inhabitants live in Singapore. It is separated from the equator by 137 km. The island is about 42 km long and about 23 km wide. Its area is 617.1 sq. km. It has a flat relief. The highest place is the Bukit Timah hill, reaching 164 m. The southern part of the island is occupied by the city of Singapore. To the west of it is an urban-type settlement - Jurong, which is a large industrial center.
The Malays are considered the indigenous inhabitants of the islands of Singapore. Immigrants from other countries appeared on the islands after the establishment of the British colony. Today, the population is dominated by the Chinese. In addition to them, the country is inhabited by Malays, Indians, Sri Lankans, Pakistanis and others. Singapore is ranked among the most densely populated states on the planet. Therefore, the islands are experiencing a number of environmental problems. The small area of ​​the country, combined with high urbanization, only exacerbate the situation. If earlier on the islands of Singapore there were thickets of tropical trees, nowadays more than half of the natural wealth has been lost. Evergreens have survived only on the coasts. The island of Semakau is famous for the beauty of nature, which actively receives tourists. Brani Island is located to the south of the main city. It has a diminutive size, but a rich history..
Photos