Prices in Singapore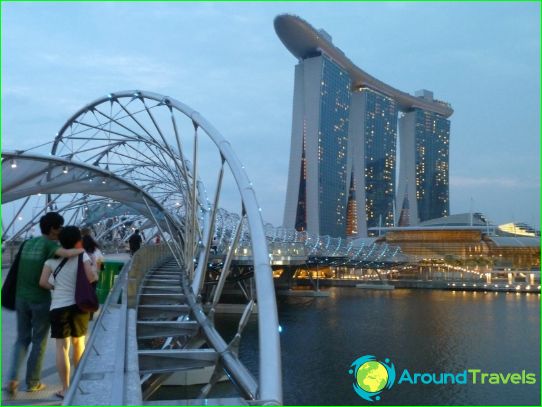 Prices in Singapore are quite high: this country is one of the most expensive in the world..
Shopping and souvenirs
In local shopping centers there are fixed prices and bargaining is not appropriate here, but in the markets you can ask the seller to give you a 15-20% discount. The most profitable purchases can be made during the period "Great Singapore Sale" (May-June) when discounts on goods can reach 70%.
From Singapore you should bring:
chinese silk painted with watercolors, "singing" vases decorated with Buddhist ornaments (they sing from the touch of a special pestle), fans made of both textiles and sandalwood, stone paintings, appliances and electronics;
spices and herbs, sweets, smoked pork with coffee flavor.
In Singapore, you can buy a Merlion figurine (lion-fish) - from $ 8, a silk umbrella from $ 16, a silk fan - from $ 8, golden orchids - from $ 50, a set of spices - from $ 8, paintings from stones - from $ 800 , handmade batik - from $ 10, Chinese vases - from $ 16.
Excursions and entertainment
On a sightseeing tour of Singapore, you will learn about the history of the city, take a photo against the backdrop of the Statue of Merlion, admire the skyscrapers built in the City business district, stroll around China Town, and visit the Hindu Temple of Sri Mariamman Temple. In addition, as part of this excursion, you will visit a factory where semi- and precious stones are processed (the factory has a Singapore Art Gallery of Stone). The cost of this excursion is approximately $ 70.
On excursions "Ethnic neighborhoods + cycle rickshaw" You will visit the ethnic quarters of Singapore, learning about the religion, culture and traditions of different communities. You will be able to walk along Bussora Street, admire the main city mosque and the former palace of the Sultan. And from the Bugis area, you can ride a pedicab to the Indian quarter, where you can not only walk, but also buy fruits, souvenirs and flowers in one of the shops. This excursion costs approximately $ 40.
If you wish, you can go to the zoo "Night safari". This entertainment will cost you $ 49 for an adult and $ 33 for a child (the cost includes entrance ticket + tram to move around the zoo).
No less interesting can be spent at the Singapore Zoo. "Zoo Free & Easy". Entrance ticket and tram for moving around the zoo - $ 41 (adult) / $ 27 (child).
Transport
The cable car, metro, trolleybuses, buses, monorails, light railways are ideal transport for moving around Singapore cities. You can buy tickets for all types of transport at ticket offices or vending machines: it can be either individual tickets or universal ones - the Singapore Tourist Pass (it costs $ 8) or EZ-Link (its cost is $ 9). A metro ride will cost you $ 0.8-2.2, a high-speed tram - $ 0.8-1.6, a monorail - from $ 2.4, a cable car - about $ 0.8, and a city bus - 0 , $ 4-1.6.
If you are an economical tourist, then on vacation in Singapore you can keep within $ 30-35 per day for 1 person (accommodation in an inexpensive hotel and meals in inexpensive cafes). But if you decide to rent a room in a mid-range hotel and eat in good restaurants, your minimum daily spending will be $ 80 per person.
Photos