Singapore resorts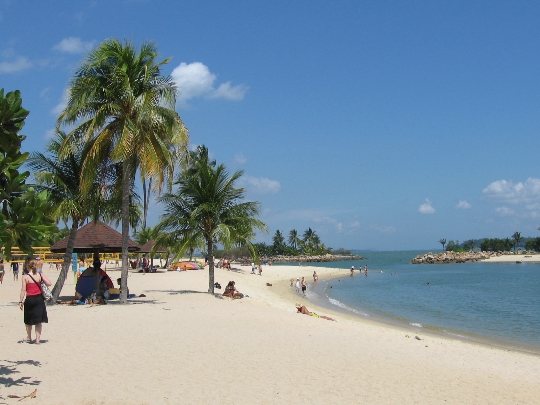 Like a meteorite piercing the earth's atmosphere, Singapore is an amazing alloy that you will not find anywhere else on the globe. Only a small dot on the map, this city-state annually attracts hundreds of thousands of tourists who wished not only to relax in the resorts of Singapore, but also to try to comprehend the secret of the economic miracle that made it possible to build a garden city in just a few years.
Always in the TOP
The main resort of Singapore in the beach sense is Sentosa Island. It is separated from the mainland by only five hundred meters of the strait, which can be overcome by a pedestrian bridge or using a cable car. For those who know a lot about beach holidays, Sentosa may not seem like a very attractive place. To call the sea in the area of ​​the resort of Singapore crystal clear would not be very fair, and the surrounding landscape is not very conducive to complete relaxation - the skyscrapers of the metropolis on the horizon bear little resemblance to paradise palm trees from the usual advertising brochures of travel agencies.
And yet, people go to Sentosa for beach entertainment, which is enough for everyone on the island. Hotels in the resort have a high level of star rating, and therefore well-to-do travelers prefer vacation here. The nightlife is also perfectly organized in this resort of Singapore - clubs, discos and restaurants can be found here for every taste and in full accordance with your own idea of ​​the ideal get-together.
For or Against?
The idea of ​​travel to the resorts of Singapore has a right to exist if you:
Love oriental exoticism, but at the same time prefer a high level of service.
You are not afraid of long-distance flights and 10 hours in the air for you - just the opportunity to enjoy the comfort provided by a good airline.
It is not difficult for you to collect documents for obtaining a Singapore visa.
You do not mind observing many unusual laws and obeying bans that are just as strange for a Russian resident while on vacation.
The proximity of the equator, high temperatures and fairly high humidity are pleasant and easy to tolerate..
Choosing the resorts of Singapore as your vacation destination, you can be sure that you will receive a guarantee of excellent service and ideal comfort in hotels and restaurants and the opportunity to visit many attractions, national parks, aquariums, gardens, colorful festivals and modern shows..
Photos