Singapore in 2 days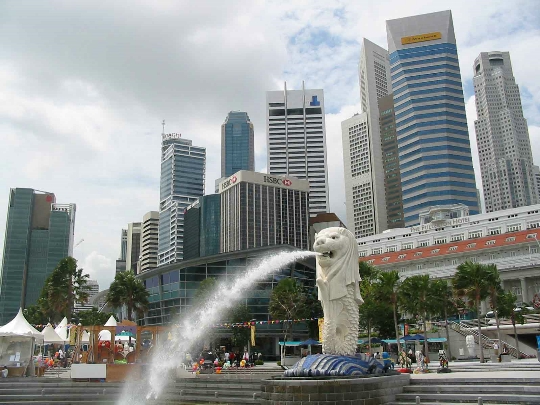 The city-state of Singapore is increasingly becoming a tourist attraction for citizens of various countries. The reason for this is the unique natural attractions, and the eternal summer, and oriental exoticism, which is successfully combined with the modern achievements of civilization. The task of seeing Singapore in 2 days is quite possible to cope with if you arm yourself with some knowledge about its most interesting places..
I sit high - I look far away
The Singapore Ferris Wheel has surpassed all similar attractions in the world in size: its height is 165 meters, and visitors to the Singapore miracle turn out to be much taller than even the guests of the London Eye. They say that recently a similar miracle was built in Vegas even more huge, but Singaporeans do not believe it.!
From more than a bird's eye view, other sights of Singapore are perfectly visible:
Jurong Bird Park is the largest in Asia, where birds exist in the most close to natural habitat. In the reserve, you can meet both tropical paradise birds and chinstrap penguins, and themed zones allow you to observe both nocturnal predators and light-loving decorative birds..
Singapore Zoo, home to over 300 species of animals in ideal conditions. About 50 species presented here are on the verge of extinction in their natural environment.
Kusu Island, where the traditional Malay sanctuary and Taoist temple are located. After the tour on the island, you can relax and admire the unspoiled nature.
Marina Bay Sands is a fashionable hotel in Singapore, where not every traveler can afford to stay for 2 days. It is famous for its unusual architectural solution: three skyscrapers are crowned with an open terrace in the form of a gondola, where gardens and a huge outdoor pool are located at an altitude of 200 meters.
For the most curious
This category of travelers from Singapore will be able to gain a lot of interesting knowledge and impressions in 2 days. It will be enough to visit at least a couple of its best museums. The most respected among them is the Museum of Asian Civilizations, the exposition of which presents the history and culture of the peoples of this part of the world over the past five thousand years. In the halls of the most beautiful building, a huge number of exhibits are exhibited for the judgment of visitors, including more than one and a half thousand unique artifacts.
Photos