Taiwan islands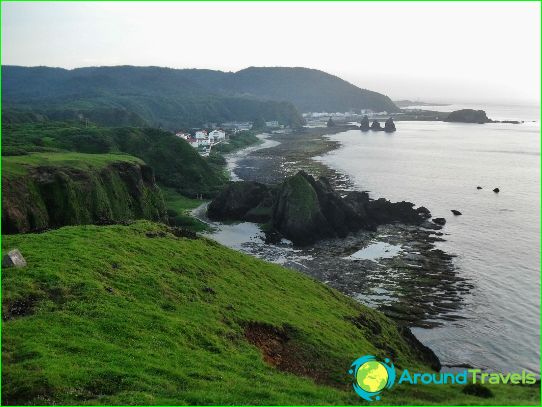 The Republic of China Taiwan is formally a province of China. It is located on the island of Taiwan, which is washed by such seas as the East China, South China and the Philippines. The eastern coast of the island has access to the open Pacific Ocean. Some of Taiwan's islands are administratively related to other provinces: Guangdong, Fujian, Hainan. The Penghu Islands have county status.
Features of the relief and climate
The island of Taiwan covers an area of ​​about 35,834 sq. km. The coastline is poorly indented. Its length is 1566 km. Taiwan's forested mountains stretch along the island. The highest point is Mount Yushan - 3997 m. The western region is a plain, and the northern one is covered with extinct volcanoes. Most of the population lives in western Taiwan. The island's climate is subtropical in the north and monsoon tropical in the south. Typhoons happen here in August and September. Summer is the rainy season with 90% of the annual rainfall in the southern parts of the island..
The islands of Taiwan are covered with evergreen forests, where palms, pandanuses, vines and bamboos grow. In the highlands there are mixed and deciduous forests of spruce, fir, ferns, cypress and camphor laurel. Alpine meadows and rhododendrons are found at an altitude of over 3300 m. In Taiwan, the coastal areas are occupied by the plantings of sweet potatoes, pineapples, rice, sugar cane, etc. The coasts in some places are covered with mangrove forests. The coastal plains are occupied by fields of rice, sweet potatoes, plantations of sugar cane, pineapple, etc. Along the coast - mangrove forests.
Characteristics of the islands of Taiwan
The Republic of China Taiwan includes Orchid Island and Green Island. They are of volcanic origin and are found in the Pacific Ocean. The area of ​​the Green Island is 16 sq. km. There are unique natural springs with hot sea water here. The indigenous population of Taiwan, the Yami tribe, has survived on Orchid Island. This island covers an area of ​​approximately 46 sq. km. It is the second largest island in Taiwan, second only to Penghu. Orchid Island and Green Island are famous for their rich underwater world and coral reefs. The largest coral island on the planet is Siaoliouciou, which is located off the southwestern coast of Taiwan. Its area is 6.8 sq. km. Unusual coral formations are dark red due to silicas and iron.
Taiwan makes claims regarding the islands of the South China Sea (Paaselskie, Spratly, etc.). The power of the Republic of Taiwan today also extends to the Taiping and Dongsha Islands..
Photos