Bangkok Tours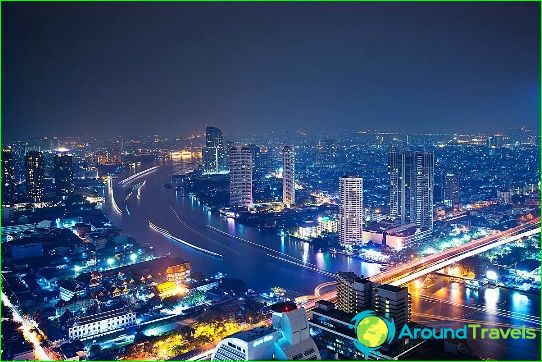 The name of this city got into the famous Guinness Book of Records as the longest in the world, but most Thais can pronounce it without hesitation, because they love their capital and consider it the most beautiful. Tours to Bangkok are not as popular as trips to a beach holiday in Pattaya or Phuket. However, once in the capital of Thailand on business or on an excursion, her guest never ceases to admire the amazing contrasts of one of the largest cities on the planet..
The place where olives grow
This is how the short version of the name of Bangkok is translated from Thai. Once upon a time, ships moored in a small port on the territory of the modern capital, and olives grew in the groves surrounding ancient Buddhist temples.
Tours to Bangkok are possible at any time of the year, but the most favorable are the winter months and the beginning of spring. At this time, the amount of precipitation is minimal, which, with a constant thirty-degree heat, greatly simplifies the existence of Europeans, unfamiliar to the humid tropics..
Briefly about the important
Taxis in Bangkok are not too expensive, but the city is literally packed with traffic jams. At rush hour, it is better to take a ride on the Bangkok subway. You should not use the services of rickshaws - they almost do not follow the rules of the road and put their passengers in great danger. If you add to this their terrible English, you may not be at all where you planned to go by getting into the carriage..
Shopping centers in the Thai capital are one of the reasons to buy a tour to Bangkok. Considering that many goods are sewn, assembled and produced in hundreds of other ways in Southeast Asia, prices are minimal, the assortment is huge, and the quality is very decent..
Shopping for food from street vendors in the capital of Thailand is an indispensable part of a tour to Bangkok. Do not be afraid of infections if you order hot food - fried noodles, for example. It is amazingly tasty, unrealistically cheap and leaves the traveler in a state of almost nirvana. The main rule is to have hand sanitizer wipes with you and carefully choose a cook. But sliced ​​fruits and freshly squeezed juices should be bought with great care, or at least refrain from adding ice to them..
When choosing a type of city transport, you should pay attention to the river trams running along the Chaopraya River. The price of travel on such a boat is purely symbolic, you can get on it to almost anywhere in the city, and the pictures flashing along the banks of the river will completely replace a sightseeing tour on tours of Bangkok.
Bangkok landmarks, markets and temples

Photos