Zoo in Bangkok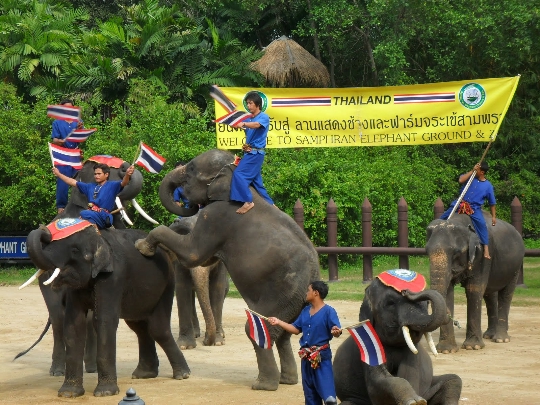 A favorite place for walks for parents with children in the capital of Thailand is located in the Dusit district near the parliament building in Khao Din Park. The history of the Bangkok Zoo goes back over a hundred years - it was founded by King Rama V as a private garden adjacent to the palace..
Dusit Zoo
In the beginning it was called "Khao Dinh Wang", which meant "forest on the mountain". In 1983, after the reconstruction, the park was reopened to the public and received the official name "Dusit Zoo".
More than one and a half thousand guests of the park demonstrate the diverse fauna of not only Southeast Asia, but also neighboring regions. More than eight hundred birds live here alone, and also three hundred mammals and almost two hundred reptiles..
Pride and achievement
In the Bangkok Zoo, the most popular animals are the albino deer and the white Bengal tiger. The decoration of the park is its museum, where you can get acquainted with the history of the origin and development of Dusit Zoo.
The zoo in the capital of Thailand has developed and implemented many educational programs for schoolchildren and biology students. Sightseeing trains offer guests a comfortable way to move around a considerable territory, an area of ​​which is 18 hectares..
The picturesque lake in the park is another great attraction. By renting a dodka, visitors can feed the turtles and watch huge monitor lizards swimming in the water nearby.
How to get there?
The exact address of the zoo is Dusit Zoo, 71, Rama V Rd., Dusit, Bangkok, 10300. Considering the inexpensive prices for taxi services in the capital of Thailand, you can use this type of transfer.
The zoo is located in the city center, a 20-minute walk from the Victory Monument and from there buses 12 and 18 go to the park.
Helpful information
The opening hours of the zoo in Bangkok do not depend on the day of the week or the time of year. It is open from 08.00 to 18.00 daily.
Entrance fees for foreigners are 150 and 70 baht for adult visitors and children. Local residents will pay less - 100 and 20 baht, respectively. Thai teachers, military and police are eligible for a 50 percent discount.
Services and contacts
At Bangkok Zoo, you can feed animals in a mini-zoo, where goats, cows and ponies live in open enclosures. The most popular corner of the park for children, the mini-zoo instills in kids a love for animals and useful skills for communicating with them.
You can dine at the food court, where several cafes offer delicious and inexpensive food from the classic Thai menu..
You can park a car, motorbike or bus at a special parking lot at the zoo for 50, 10 and 60 baht, respectively.
The official website of the Bangkok Zoo - www.dusitzoo.org
Phone + 0-2281-2000
Pictures of the zoo in Bangkok