Streets of Pattaya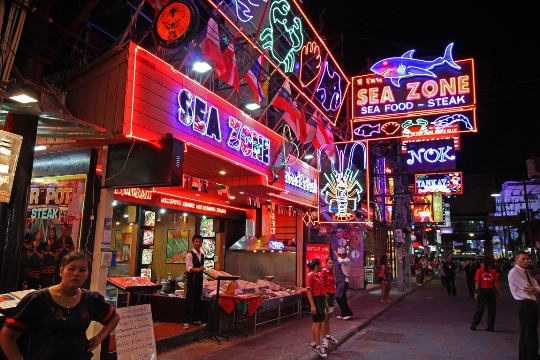 Beautiful Thailand and its best resorts have long become almost a home for thousands of Russian citizens. They, for example, are well mastered the streets of Pattaya and its beaches, nightclubs and the best shows. A walk around the city, acquaintance with historical sights and modern realities surprises, pleases, remains in memory and is captured in the photo.
Heart of Pattaya
Walking Street, the main street of the fashionable Thai resort, has received such a beautiful definition. It not only occupies the center of the city geographically, but plays a major role in both day and night life..
For locals - it is both love and hate, for guests from Russia - Thai Arbat and Tverskaya in one person, for Europeans - Rome, where all roads lead. Who and what you will not see here: stalls and bars with exotic dishes, charmers of dangerous reptiles and magicians-fakirs, girls offering entertainment in the style of go-go, and transvestite shows - one of the highlights of Pattaya. Movement around the clock, without a break for food and sleep.
Thai shopping
Another well-known street in Pattaya, Beach Road, is suitable for this. Besides the fact that the most luxurious hotels and expensive restaurants are located here, the best shopping establishments of the resort are concentrated here. New-fashioned boutiques offering world collections of the last season, cozy shops selling exotic (in the eyes of tourists) things, huge shopping and entertainment complexes, which will take at least a day to walk - all this can be found on Beach Road.
The most popular among vacationers in Pattaya are Royal Garden Plaza, Central Festival. And the most vivid impressions will remain after visiting the Mike Shopping Mall, because there is a wonderful swimming pool on its roof. By the way, show programs from transvestites and dances of local girls can be found on this street..
The world in miniature
More cultural activities that are suitable for both adults and young tourists can be found on Sukhumvit Road. For example, the famous Mini Siam Park, where miniature copies of the most famous architectural masterpieces not only of Thailand, but of the whole world are concentrated. In just a short time, walking through this amazing park, you can see:
the most famous temple complexes in Bangkok;
Thai Royal Palace;
the French Eiffel Tower;
the American Statue of Liberty;
St. Basil's Cathedral, native to Russian tourists.
The park looks especially good in the evening, when specific illumination is turned on, which turns the mini-city into a stunning sight.
Photos of Pattaya streets