Holidays in Thailand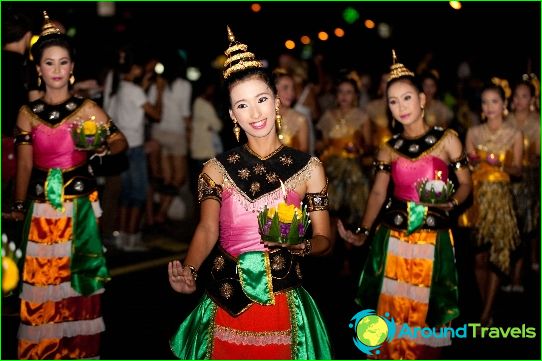 Thailand is a country that has preserved a distinctive folk culture. The reason for this is quite simple: the country has never felt the influence of other cultures on itself..
Holidays in Thailand will acquaint you with the traditions and peculiarities of the life of the population. In addition, the people of the country love to take a walk and do it for any reason and on a huge scale. Thais are very responsible in organizing festive events also because the country's economy depends on the tourism business, and holidays attract curious travelers from all over the world..
Along with the traditional New Year and celebrations dedicated to the gods, quite exotic and unique festivals are celebrated in Thailand..
Mango Festival
Since the variety of vegetables and fruits growing on the territory of the country is amazing, its inhabitants could not help but devote separate celebrations to these gifts of nature. One of these is the Mango Festival held in Chachoengsao Province. Mango is called «king of fruits», as it is believed to cure all diseases. This wonderful fruit is served not only fresh. Numerous dishes are also prepared from it, which are generously treated to guests of the holiday..
Everyone can take part in carving competitions, that is, show their ability to cut various shapes from vegetables and fruits. The rest can just admire «mango» processions and appreciate the delights of local beauties at a beauty contest.
Elephant festival
The holiday takes place at the end of November in Surin and embodies the admiration of the people for the strength, nobility and courage of these beautiful giants. In addition, the albino elephant is a symbol of Thailand, since according to legend, Buddha appeared to people on such an animal.
The celebration begins just after sunrise with a performance depicting the ancient battle of elephants. The riders are dressed in military armor, and the animals are decorated with ribbons, bells and embroidered blankets.
After that, the parade of elephants begins, when at the same time it allows you to see several hundred giants. This is followed by various elephant games, including elephant football, tug-of-war, and performances of trained giants..
But it is worth noting separately a competition where those who wish can lie down on the grass, and gray titans will neatly step over them. The repertoire of the holiday changes every year, presenting the audience with new entertainment and a lot of fun.
It is believed that the one who passes under the trunk or belly of this magnificent animal will be lucky in life. Therefore, all tourists are provided with such a service. You can also take a photo for memory and even ride a smart and beautiful giant.
Photos