Taxi in Thailand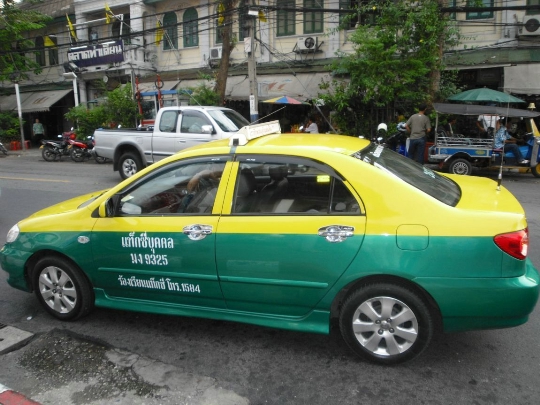 Taxis in Thailand are usually used for transfers from the airport to the hotel and vice versa. Given that not every city in this country has an airport, you will most likely have to use taxi services. A taxi ride to a neighboring city can be profitable, especially if you are traveling with 3-4 people.
Features of taxi in Thailand
Thailand's well-developed infrastructure offers many different types of taxis, all of which are expensive. In order not to leave the last money to the taxi driver, you need to know several important points:
if the taxi has a meter, it will be necessary to pay for the landing - 35 lats and then pay depending on the mileage. Typically, you will have to leave up to 300 baht;
if there is no meter (which is quite common), you should agree on the fare in advance. The minimum cost of a transfer on the islands is 150 baht;
rates for night trips are doubled.
The official taxi is easily recognizable by the inscription «Takhi» or «Taxi meter». Most of the drivers speak little or no English. For this reason, it is best to keep a card with the name and address of the hotel with you. Tipping is not available in a local taxi. But bargaining with a driver about the fare is a fairly common activity in Thailand. More competition can force an entrepreneur to give in to a client.
You can call a taxi in Pattaya by the following numbers: + 66 38 251 755 (Image Limousine); + 66 38 724 199 (P. Ttaxi Service); + 08 00 023 377 (Pattaya Express).
Alternative types of taxis
Fast and relatively inexpensive movement around the city is provided by mototaxis or motorbikes. The drivers of such vehicles have a special uniform that sets them apart from the crowd. Customers here are inviting claps and loud shouts «Taxi». Usually this type of transport can be found in crowded places - near shopping centers, near beaches and markets. One trip on this type of transport will cost 30 - 150 baht.
You can stop a moving motorcycle taxi by simply raising your hand. In general, the cost of mototaxi services will cost 2-3 times cheaper than a traditional taxi.
Visitors to Thailand do not have any problems with movement both within cities and beyond. Everyone can find a mode of transport that suits the needs and capabilities of the wallet.
Photos of taxi in Thailand