Diving in Tunisia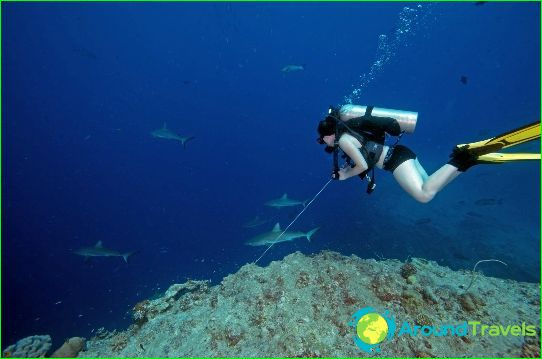 Diving in Tunisia is more suitable for beginners and less demanding divers. If you are looking for something special, then this is definitely not the place for you. But, nevertheless, an interesting underwater landscape, rich flora and fauna of the Mediterranean will give you many pleasant minutes..
North coast
This is the most popular diving site, or rather, the part of the coastline located between Tabarka and Bizerte. The water off the coast is spotlessly clean. This is explained quite simply - the coastline is an almost continuous rocky line. The only exceptions are sandy beaches..
Numerous underwater grottoes, corridors and tunnels have become a habitat for a variety of marine life. But it is especially interesting as a diving object passing through this territory, the largest Mediterranean coral reef. In addition to the usual inhabitants of coral gardens, here you can watch sea bream, eels, octopuses. Not uncommon in these waters and tuna. Moreover, there are both tiny young specimens and huge giants, reaching a weight of 200 kilograms..
La Galite Archipelago
This popular dive site is located 60 kilometers from the mainland and connects six islands. The waters of the archipelago are closed to fishermen, so the waters are simply teeming with various representatives of the marine fauna. Here you can also see an interesting wreck - a merchant ship that sank in 1958.
Cap Bon Peninsula
The coastline of the peninsula is mainly represented by rocks, but there are also sandy areas. This area is most suitable for beginner divers as the bottom is shallow and the depths are minimal. The underwater landscapes, as well as the variety of inhabitants, are in no way inferior to the northern coast.
East Coast
Among the numerous reefs and in the underwater grottoes, life is in full swing. Starfish and urchins, sponges and numerous schools of small fish scurry busily among a variety of algae.
Not far from Mahdia, while diving, you can see several wrecks dating back to the Second World War. Here, divers have the opportunity to examine the remains of a military helicopter..
The waters of Mahdia were glorified by Jacques Yves Cousteau, who found an ancient Roman galleon here during his famous underwater walks. Its holds were filled with real treasures that can now be seen when visiting the Bardo National Museum.
Djerba Island
The underwater world of the island's waters is strikingly different from the continental one. Here you will see the magnificent gardens of the gorgonians, and the stingrays soaring like birds, slowly follow some of their well-known routes..
Photos