Holidays in Tunisia in June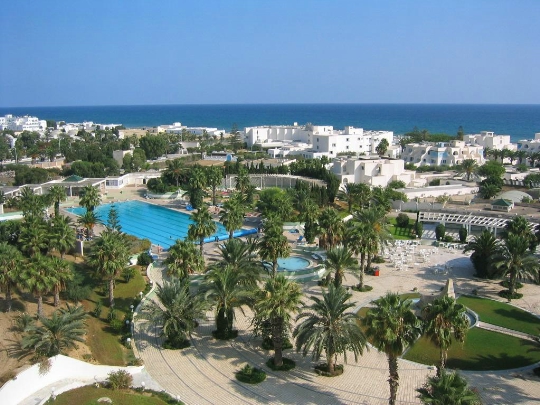 In June, people from different countries tend to come to Tunisia in order to enjoy an eventful vacation. So, what weather conditions are set at this time?
First of all, it should be noted the possibility of staying on gorgeous beaches and swimming, because the water in the sea warms up to + 21C. On the eastern coast of Tunisia, the air warms up to + 28C during the day, but cools down to + 18 ... 19C at night. Given the increased solar activity, you should use protective creams and try to visit the beach in the morning or evening. On the island of Jebra, in Tabarka and Bizerte, the air warms up to + 29C, and by the evening it cools down to + 17C.
In the southern regions of Tunisia, there is practically no precipitation, but in other regions there may be rain, despite the fact that they become rare guests. In Mahdia and Monastir, the minimum amount of precipitation is noted, because in June there are only three millimeters. Dry weather settles on Jebre.
Festivals in Tunisia in June
Holidays in Tunisia in June can be marked by a rich cultural leisure. So, what activities should you count on?
The main musical event is the International Jazz Festival, which is traditionally held in Tabarka. Famous musical groups rise to an unusual stage, because the concert is held among the ruins of a Genoese fortress. Enjoy beautiful views of the city, picturesque nature, fresh air and multifaceted jazz!
In June, Tunisia hosts the International Arab Horse Festival. Horse racing traditionally takes place in several stages and always attracts many tourists..
The International Falconry Festival is becoming a tradition in Tunisia. It is important to note that the festival is unique and attracts participants from 80 countries of the world. The program includes a demonstration of various methods of falconry, bird beauty contests, photo exhibitions for everyone. Entertainment and educational programs are especially significant events. Falconry is included in the UNESCO Intangible Cultural Heritage List, therefore the festival plays an important role.
You can visit Tunisia in June and enjoy your vacation to the fullest. Take advantage of the unique opportunity to visit gorgeous beaches and swim in the warm sea, discover an unusual culture for yourself!
Photos of rest in Tunisia