Holidays in Tunisia in September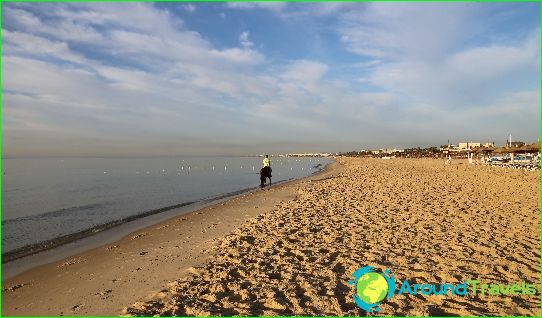 In the first half of September, the weather in Tunisia is very similar to summer. During the day, the air warms up to + 32C, and on some days up to + 40C. In the evening, the temperature drops to + 22C, which makes it possible to take a break from the heat. It gets cooler by the end of September, but it's still not very noticeable. In the southern regions of Tunisia, the daytime temperature is + 28C, in the evening + 21C.
In September, you can enjoy clear days, no wind and calm. Despite this, real autumn is getting closer and the sea sometimes shows its stormy character, and cumulus clouds can appear in the sky. Weather conditions in Tunisia in September will allow you to enjoy a luxurious vacation on the beach, long walks and sightseeing, shopping.
Holidays and festivals in Tunisia in September

Wine weeks are held throughout September in Tunisia. The wines are of high quality and pleasant taste, despite the fact that their prices are democratic. Everyone can visit «wine castles», where the tasting takes place.
From the second to the sixth September, the Coral Festival is traditionally held in Tabarka. Guests can attend seminars, lectures, photo exhibitions and film screenings dedicated to the underwater world. Each event is thematic, but at the same time it can be very interesting.
In the second half of September, it is customary to hold the Festival of the Sea and Sirens in Tunisia. During the festival, participants use clay jugs to catch octopuses.
It is customary to hold a festival at the end of September. «Neptune's trident». This festival is an international underwater fishing competition. The event allows you to determine which participant is best equipped with a sea spear and can become the owner of the Neptune trident.
In September, Tabarka hosts the Jazz Festival, which allows you to fully enjoy jazz music. Each performance is able to bring a lot of pleasure to the listener.
Holidays in Tunisia in September can please with richness and allow you to fully enjoy the long-awaited trip..
Photos of rest in Tunisia