Alanya beaches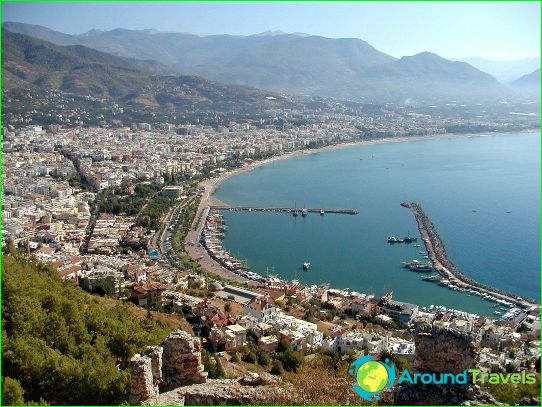 It is not for nothing that the beaches of Alanya are among the best beaches in the world, suitable for a comfortable and not too expensive vacation all year round. They are truly luxurious, for which they were awarded the Blue Flag. Their picturesque landscape and high quality service attract tourists from all over the world, but most often it is Russians who can be seen here..
The reason for the popularity of Alanya beaches
Alanya is located 120 km from Antalya, and most of it is located on a high rocky promontory. The nature here is completely unique, and the infrastructure is well developed, so vacationers have something to see and do. The Taurus Mountains rise above Alanya, creating a stunning effect of fusion of fresh sea air with clean mountain air. The local flora is very diverse: cedars, pines, fruit trees, exotic flowers and neat lawns - all this literally takes your breath away and does not allow you to hide your camera for a minute..
Surprisingly, a vacation on the best sandy beaches of Alanya will cost a tourist much cheaper than in many resort cities in Turkey. With such picturesque landscapes and amazing purity of the air, local prices almost cause tears of affection. All vacationers are accommodated in comfortable hotels with professional staff ready to fulfill any whim for a nominal fee.
Variety of beaches in Alanya
Alanya resort is famous for its clean and large sandy beaches, which come from all over the country. This town is suitable for those who do not plan to spend a lot of money on vacation, but at the same time want to relax with taste and convenience. Local sandy beaches with a wide coastline are especially popular..
Alanya beaches can be roughly divided into three categories:
sand;
sand and pebble;
stony.
Mostly vacationers prefer to sunbathe and swim in the villages located near Alanya. For example, in the village of Mahmutlar, the beaches are very wide and crowded, so they are not suitable for everyone. Here, small pebbles are mixed with white sand. On the "approach" to the city, the beach becomes narrower, and large stone slabs begin to meet on the way. Vacationers sunbathe directly on the slabs, especially when the sand gets too hot.
The large village of Avsallar will delight vacationers with an abundance of various cafes and shops. Here you can buy souvenirs, visit small bays and take a boat ride. Walking around the village of Avsallar is one sheer pleasure, especially if you are here for the first time. Big waves never happen here, so the village is always quiet and calm. The coastline is quite narrow and the beaches are exceptionally sandy..
Photos of Alanya beaches