Districts of Antalya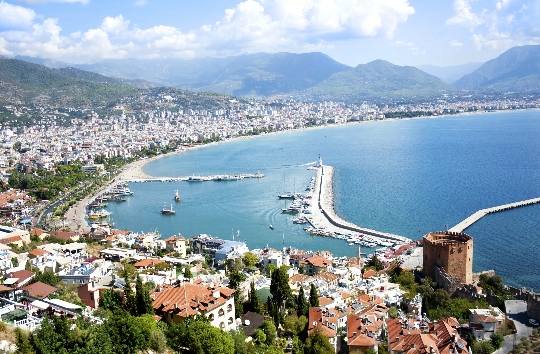 When choosing areas of Antalya ideal for recreation, you need to familiarize yourself with each of them separately. Antalya includes five large districts - Deshemealti, Konyaalti, Aksu, Muratpasha, Kepez.
Description and attractions of the main areas

Konyaalti: invites travelers to visit the "Aqualand" water park (it is worth sliding down the "Giant Slide" and "Hydro Tube", sailing along the "river" past the grotto and the waterfall, trusting the hands of a massage therapist in the appropriate office, taking part in a dance show at night), Dolphinarium (available entertainment - watching dolphin shows and swimming with dolphins), Ataturk Park (ideal for picnics, walks, horseback riding), Migros shopping center, Aquarium (in addition to "aquacletes" with various underwater inhabitants, there is an underwater aquarium with sharks and slopes), a beach area stretching for 10 km (equipped with sun loungers with umbrellas, showers, changing cabins, a rental of jet skis), Beach Park (interesting with an amphitheater, children's and sports grounds, a small Luna Park), walk along the embankment, along which benches and restaurants are installed, climb to the observation deck of Mount Tünektepe (for entry, a fee of 5 lire is provided) and make a unique from there ralny photos. Khurma microdistrict stands out in Konyaalti - spring rest will delight tourists with blooming orange groves, and summer rest - with parks and squares.
Deshemealti: the area is of interest to tourists for the opportunity to acquire various types of local carpets (mihrapla, haleli, toplu) and lace.
Muratpasha: the area invites travelers to walk through the ancient streets and go on a boat excursion along the Antalya coast. Part of Muratpasha is the Lara district - there are not only shopping centers and offices of various companies. In Lara, you can have fun in the popular Sampe nightclub, relax on a sandy beach that has been awarded the Blue Flag (admission is free, but you can rent a sun lounger if you wish; there is also an annual sand sculpture competition), go to the Lower Duden waterfall, take a walk in Lara Kent park ... The Kaleici district is located in Muratpasha: here you can buy handmade items created by local craftsmen, as well as climb to the balcony located at the top of the Yivli Minaret (you have to climb 90 steps).
Where to stay for tourists
The most preferred area for travelers is the Konyaalti area - it has convenient beaches + entertainment places are just a stone's throw from here.
If you are a picky tourist, then you can stay in boarding houses or apart-hotels in the Kaleici area (room rates per day start from 50 liras) - they provide good service, but you can face the problem of interruptions in the supply of hot water (it is heated by solar panels).
It is advisable for vacationers with children to take a closer look at hotels in the Lara area, where, if desired, you can stay in one of the 5-star hotels focused on quality family holidays.
Photos of Antalya districts